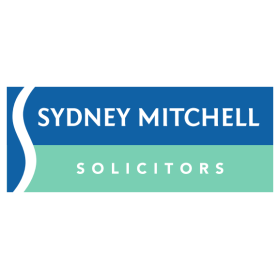 Fantastic news Sydney Mitchell has won Law Firm of the Year in the 5-15 partners' category in the Birmingham Law Society Awards 2018. A great achievement! Thank you to all the partners and staff who made this achievement possible.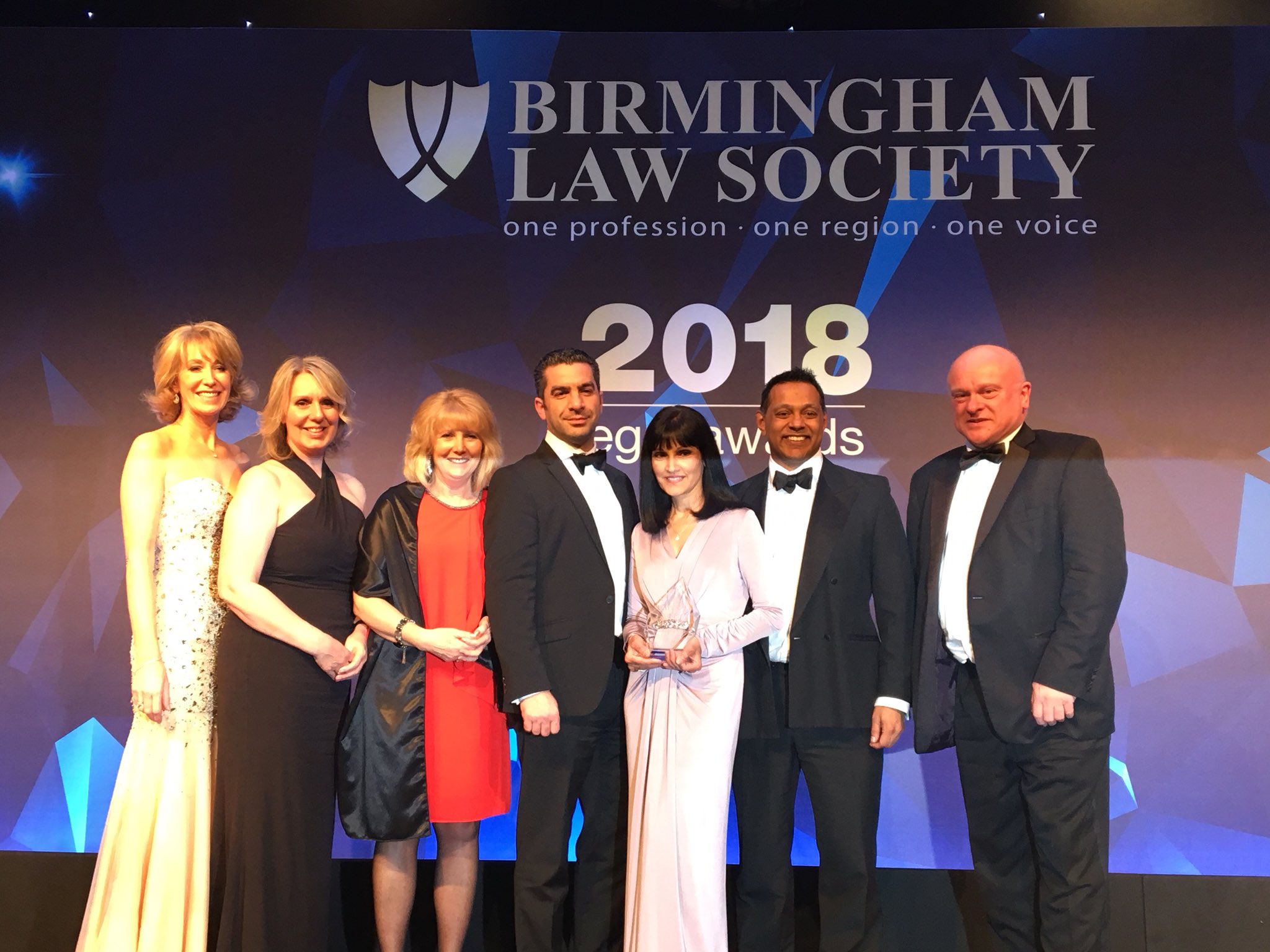 Partners Fahmida Ismail, Sarah Archer, Kam Majevadia, Tracy Creed, Dean Parnell and Mauro Vinti accepted the award on the night presented by Emma Jesson and the category sponsored by Tony Rollason (Landmark Information Group).
Fahmida Ismail commented:
What an excellent result, recognising the hard work contributed by every single person in the firm in making us exceptional and being recognised by the Birmingham Law Society as Law Firm of the Year.

We are all extremely proud to continue to serve our clients to the highest standard. Birmingham has such a lot to offer businesses and individuals and Awards like this just continue to show that we have great quality firms and people here in Birmingham.
Sydney Mitchell specialist teams include employment, commercial property, company and commercial services, litigation and insolvency. Private client teams include family law, residential property, dispute resolution and wills and probate, contentious probate, tax and trusts and personal injury.
Sydney Mitchell previously won this award in 2008, 2011, 2013, 2014, 2015 and it is a fantastic result that the firm has won the award in 2018.
Well done to all the winners in the Birmingham Law Society Awards 2018 - full list link attached
http://www.birminghamlawsociety.co.uk/2018winners
If you would like help on any legal matters, please call 0121 698 2200 or email enquiries@sydneymitchell.co.uk or fill in our online enquiry form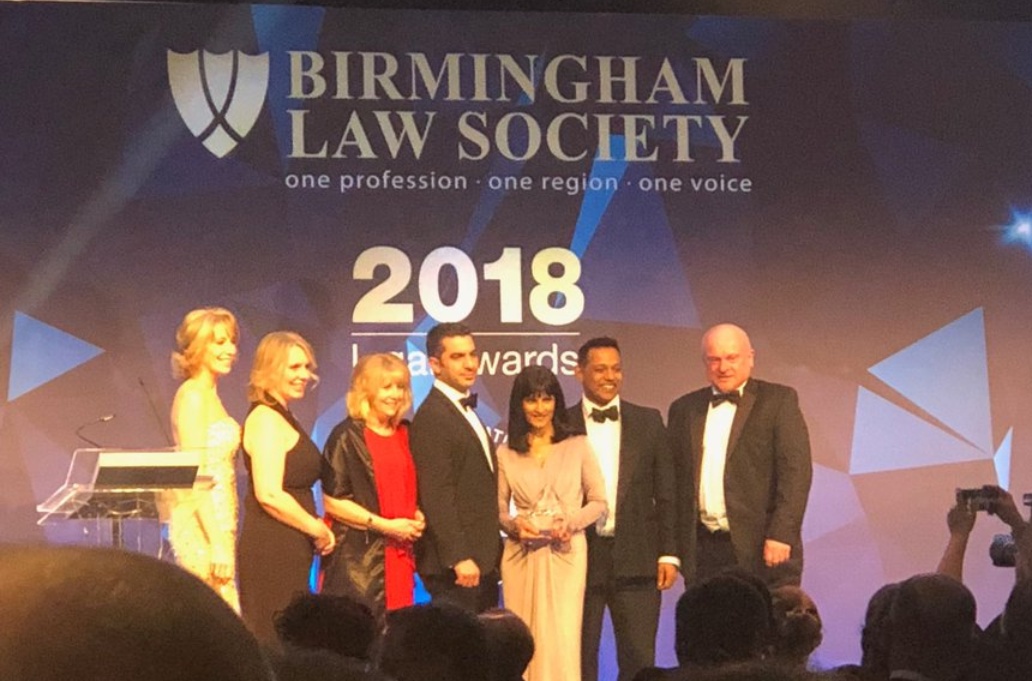 It has been said, at its finest, rider and horse are joined not by tack, but by trust. Each is totally reliant upon the other. Each is the selfless guardian of the other's very well-being. A virtuous and true sentiment, if ever there was one. However the mind and actions of any party in a relationship maybe subject to a momentary lapse and these lapses may result in injury.
"The joy and gift of owning a horse can never be fully appreciated but some gifts do not turn out to be what we expect"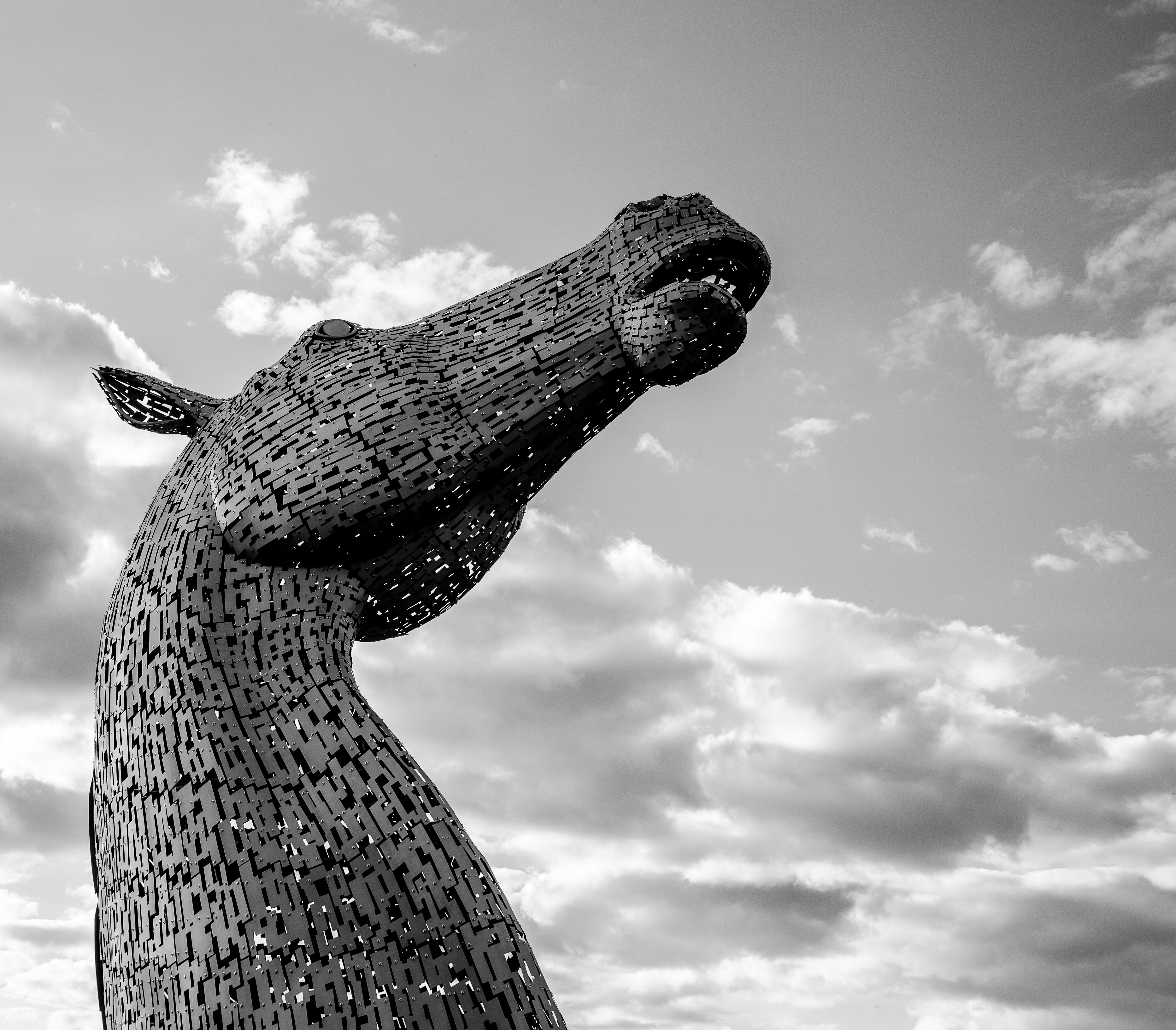 The gift of riding does of course come with hidden dangers which all riders will be aware, indeed secretly this is a very small part of the enjoyment. We therefore come to expect the unexpected whatever level of trust may exist.
However, despite our best endeavours to avoid such incidents whether by perception or anticipation the Trojan will take by surprise. This maybe in the form but not limited to the provision defective riding gear, incorrect fastenings, accidents sustained in a road traffic collision or injuries sustained as a result of being given a horse with the wrong temperament that is not suitable to your riding skills.
The injuries as a result of the Trojan can be very serious and life changing and expert legal advice should be sought to help gallop through this very specialised area.
Therefore, If you have been injured as a result of a Trojan / accident which you could not avoid or even contemplate, please feel free to discuss this with us. We shall consider your claim under a "No win-no Fee agreement" and certainly no Trojan or hidden costs will apply.
David Lydon, d.lydon@sydneymitchell.co.uk 0121 698 2200
Solicitors and other professionals obviously owe their clients a duty to use all reasonable care and skill in advising them – but what happens if they make a mistake that causes economic loss to an opposing third party who is not their client? The Supreme Court tackled that issue in a decision that will be required reading for all professionals.
The case concerned a solicitor whose corporate client owned a business park that had been used as security for substantial loans. The lender also held a floating charge in respect of all the client's assets. When one of the park's units was sold, it was envisaged that the lender's floating charge and security in respect of two other units would be maintained.
However, the solicitor sent the lender an email that mistakenly stated that the client's whole indebtedness was to be paid off and the entire security discharged. The lender did not query that statement or make any attempt to check its accuracy before discharging the entire security, including the floating charge. The mistake went unnoticed until the client went into liquidation and the lender suffered substantial loss.
The solicitor could not explain how she had come to make the error and the lender launched proceedings against her and her firm, alleging professional negligence. The claim, which was decided in Scotland, was dismissed by a Lord Ordinary. However, that decision was subsequently reversed by the Inner House and the lender was awarded £369,811 in damages.
In upholding the solicitor's and the firm's appeal against the latter ruling, the Court noted that it was presumed to be inappropriate for a solicitor to assume a duty towards a third party who is in opposition to his or her client. Such a duty could only be imposed if the solicitor concerned could reasonably be expected to foresee that his or her statements would be relied upon by the opponent.
Any prudent lender, taking basic precautions, would have checked the accuracy of the solicitor's statement. In implementing a transaction with critical implications for its security, the lender had not acted reasonably in proceeding upon no more than a description of the agreement's terms put forward by the borrower's legal representative.
Contact Sundeep Bilkhu, Associate Solicitor, Sydney Mitchell LLP - 0121 698 2200 s.bilkhu@sydneymitchell.co.uk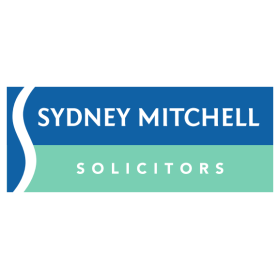 Every family is different whether they are married, live together, have children, are childless or same sex. Why then should there be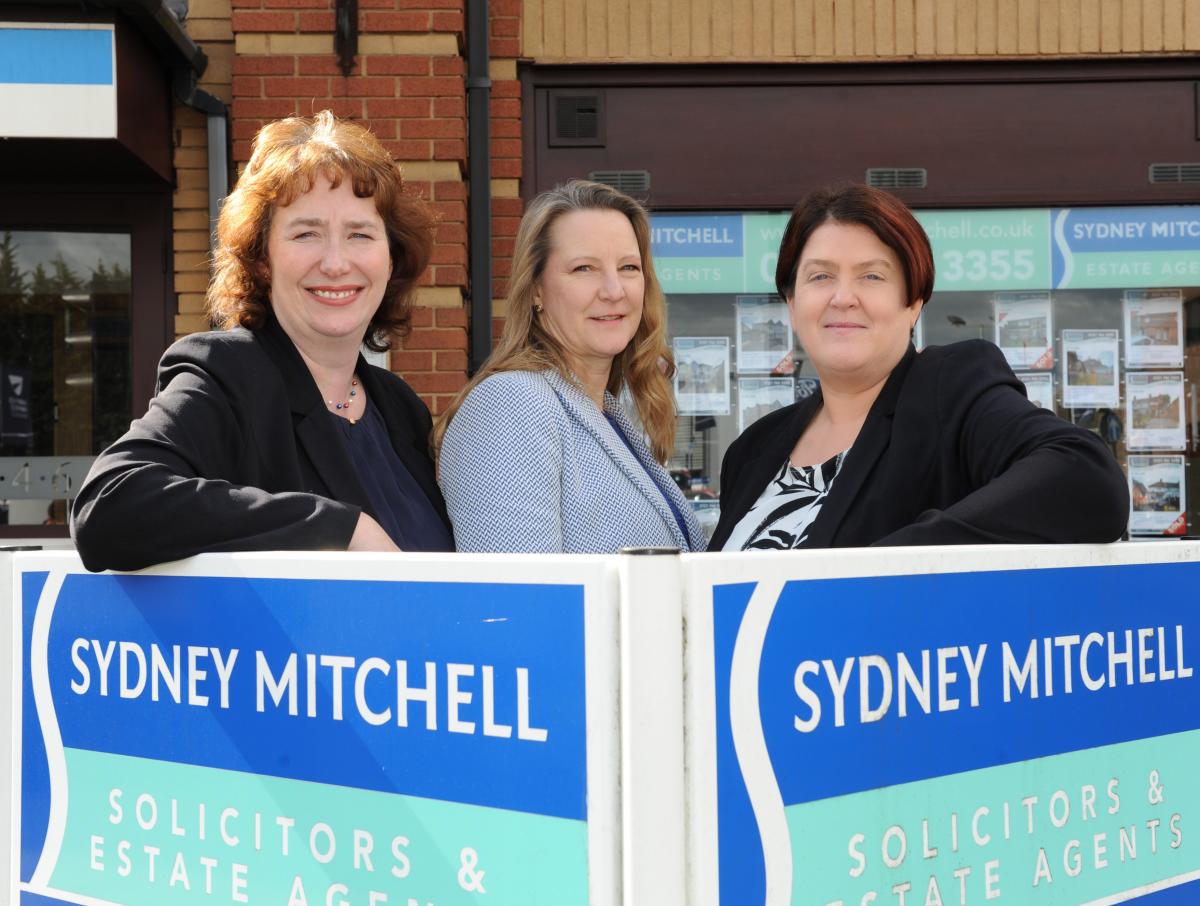 only one option i.e. the court, to help families when relationships come to an end or when families want to agree what should happen if a relationship comes to an end.
Collaborative law has been around for over 10 years. It puts families in control of how children and assets are going to be dealt with if the family are no longer going to live together. It excludes court involvement, except to approve what the parties have agreed. It is entirely private. It is non-confrontational, but it still involves lawyers and other professionals in helping families make arrangements. It is completely transparent. Discussions take place in meetings with all parties including lawyers so.
Frankly, it works. It is harder to lose sight of trying to reach an amicable solution when you sit in a room together. You are in control of the agenda so that you can prioritise matters that are important to the family.
The collaborative process can also be used at the start of a relationship in order to negotiate and agree a pre-nuptial agreement or living together agreement in anticipation of marriage, cohabitation or a civil partnership.
We have a collaborative lawyer at each of our offices.
If you wish to discuss this process in any more detail or to see if it is suitable for you please look at the video on the attached link https://www.sydneymitchell.co.uk/services-individuals/family-law/separation-and-divorce/collaborative-law or contact Judi Wood, Amanda Holland or Teresa Mannion on 0121 700 1400.
The rules governing the taxation of termination payments are being tightened from 6 April 2018 by means of legislation to amend Chapter 3, Part 6 of the Income Tax (Earnings and Pensions) Act 2003.
Hitherto, where the employee's contract of employment contained an express payment in lieu of notice (PILON) clause, such payments were taxed at the appropriate rate. Where a PILON was not contractual, or the business making it did not routinely make such payments to departing staff, it could be regarded as compensation for breach of contract and paid free of tax up to a threshold of £30,000.
In order to ensure that the £30,000 exemption cannot be abused, the distinction between contractual and non-contractual PILONs has now been removed. The change applies to payments or benefits received on or after 6 April 2018, whether contractual or non-contractual, in circumstances where the employment also ended on or after 6 April 2018.
Employers are now required to calculate the amount of basic pay excluding bonuses, referred to as post-employment notice pay (PENP), the employee would have received had they worked their full notice period. This amount is taxable as earnings and subject to Class 1 National Insurance Contributions (NICs).
The first £30,000 of a termination payment that is not PENP remains exempt from Income Tax, and any payment made to any employee that relates solely to the termination of their employment will continue to have an unlimited employee NICs exemption. The proposal to subject all termination payments above the £30,000 threshold to employer NICs, which was originally due to take effect at the same time, has been delayed until April 2019.
The legislation ensures that PENP calculations are not to be applied to statutory redundancy payments. These are always taxable as specific employment income and subject to the £30,000 exemption where appropriate.
Initial guidance on the new rules can be found in HM Revenue and Customs Employer Bulletin 70 at https://www.gov.uk/government/uploads/system/uploads/attachment_data/file/684355/EmployerBulletin.pdf. More detailed guidance will be published in the Employment Income Manual in due course.
A further change is that Foreign Service Relief in respect of termination payments is to be removed. This will not apply to seafarers, however.
In addition, the legislation clarifies that the exemption from tax for payments for injury and disability is not intended to apply to payments for injury to feelings, except where the injury amounts to a psychiatric injury or other recognised medical condition.
Employers are advised to include a PENP clause in employees' contracts of employment as the tax advantage of excluding such a clause no longer exists. If you would like assistance in reviewing your contracts of employment to ensure they are fully compliant with current legislation, please contact Samantha Glynn (s.glynn@sydneymitchell.co.uk) on 0121 698 2200.
Giving someone else power of attorney over your finances can be a useful means of ensuring that your affairs will be properly managed if you lose the capacity to do so yourself. However, one case in which a war veteran's money was plundered by a man he considered to be a friend shows how sensible it is to entrust such powers to professionals.
The pensioner, who fought in the Second World War, granted his friend an enduring power of attorney (EPA) when he felt that his faculties were waning. After he was stricken by dementia, his attorney used his position to fleece him of large sums of money. He used the cash to pay off his own debts and to buy supplies for his business. After the pensioner died, the man sold his house, war medals and family photographs before pocketing the proceeds.
The pensioner's family sounded the alarm. The man pleaded guilty to two counts of theft and was jailed for four and a half years. In dismissing his challenge to the length of his sentence, the Court of Appeal noted the emotional distress suffered by the pensioner's daughter and wider family. The man had used his legal status to exploit the vulnerable pensioner and it was a nasty case, involving a grave breach of trust. In those circumstances, his punishment was neither wrong in principle nor manifestly excessive.
In a case like this, the only redress the family will have is to try to recover their losses from the perpetrator's assets. In practice, this isn't easy as the sums taken have more often than not been frittered away. Using a solicitor as your attorney means you can rely on them to act in your best interests and carry out the tasks involved in a professional manner.
We can assist you by ensuring that a professional is appointed to act as your attorney or if you prefer, as a replacement attorney if your chosen attorney is unable or unwilling to act in the future. This will give you the added assurance that all legal issues will be handled appropriately.
For help or advice on this or other related Wills Trust and Probate matters, please contact Ravi Sandhu r.sandhu@sydneymitchell.co.uk or a member of the Private Client team.
When a tenant of industrial land failed to adhere to a notice to quit the premises, the landlord brought a legal action under the law of trespass for its lost rental income – £12,000 per annum.
The tenant did nothing and the landlord then instructed experts whose report indicated that a claim of £78,000 per annum was appropriate, based on the current rental value of the property.
The tenant raised points on the expert's report and indicated that he would commission his own report from another expert. In the event, he failed to do so. However, the landlord also failed to amend its own particulars of claim. It was therefore somewhat surprising that when the matter reached court the judge accepted the expert report as it stood and awarded the landlord damages based on the £78,000 it indicated.
The tenant appealed to the Court of Appeal, arguing that the claim should be limited to the £12,000 contained in the landlord's particulars of claim.
The Court of Appeal dismissed the tenant's challenge. He was aware of the content of the expert's report. The increased rental figures could be claimed without the requirement to amend the particulars of claim.
Says Sundeep Bilkhu
Whilst the decision comes as something of a surprise, it does make the point that in any legal dispute where a claim is backed up by an expert report, at the very least consideration should be given to the appointment of a second independent expert to review the evidence and provide a second opinion on what is reasonable in the circumstances.
For help or advice on this or a legal dispute matter, please contact Sundeep Bilkhu on 0121 698 2200 or email s.bilkhu@sydneymitchell.co.uk
Those who do not make use of their land take a risk that title to it will be acquired by others in the exercise of so called squatters' rights. Exactly that happened in one case in which property owners objected in vain to their neighbour incorporating a slice of what they claimed was their land into his garden.
The case concerned a banana-shaped strip of land, measuring two metres at its widest, between the car park of the owners' animal feed store and their neighbour's property. Due to a missing conveyance, the exact boundary line between the two properties could not be determined, but it was apparent that at least part of the strip fell within the owners' registered title. A dispute arose after the neighbour redesigned his garden so as to include the disputed strip.
After the neighbour applied to be registered as the strip's rightful owner, the matter was referred to the First-tier Tribunal (FTT) for resolution. In ruling in the neighbour's favour, it found that he had enjoyed exclusive possession and control of the strip for more than 10 years in the reasonable belief that it belonged to him. By operation of the Land Registration Act 2002, he was thus entitled to be recognised as its owner.
The FTT noted that, before the owners had acquired their property, the neighbour had put in place a chain link fence to prevent his dogs from straying. That had later been replaced by another fence and both structures had the effect of excluding the owners and their predecessors from gaining access to the strip. He had been in adverse possession of the strip since the first fence was erected in 2001.
For help on this or other related property dispute or litigation matter, please speak to Sundeep Bilkhu on 0121 698 2200.
Employers are reminded that the minimum required contribution levels to auto-enrolment pension schemes or qualifying workplace pension schemes (based on a worker's 'qualifying earnings') increase from 6 April 2018.
From that date, the employer minimum contribution rate will be 2 per cent and the staff minimum contribution rate will be 3 per cent.
There will be a further increase from 6 April 2019, when the employer minimum contribution rate will rise to 3 per cent and the staff minimum contribution rate will rise to 5 per cent.
Failure to comply will mean that the pension scheme will no longer be a qualifying scheme for existing members and cannot be used for automatic enrolment.
Further information and detailed guidance for employers can be found on the website of the Pensions Regulator.
For help or guidance on this or other related employment matter, please contact Samantha Glyn s.glynn@sydneymitchell.co.uk 0121 746 3300
Former couples can obtain divorces in almost any country to which they have a sufficiently close connection and that is a frequent source of jurisdictional disputes. In one case, the High Court found that a woman had wrongly been granted an English divorce after her marriage had already been brought to an end by a French court.
The ex-couple, who had two children, were French nationals but had homes in both England and France. Some years after their separation, the husband obtained a divorce in France. The wife, who had settled in England, obtained a decree nisi from an English court about a year later. That decree was later made absolute.
The husband's application to have the French divorce recognised in England was subsequently upheld by a district judge. The wife, however, appealed on the basis that she had not received proper notice of the French proceedings and that the husband was aware of the proceedings in England. She argued that, in those circumstances, the English decrees should be allowed to stand.
In dismissing her appeal, however, the Court found that she had chosen not to take part in the French proceedings, although she had known about them several months before the French divorce was finalised. There was evidence that the English court did not have all relevant information before it when it granted the decrees. In those circumstances, the French divorce had rightly been recognised in England and the decrees nisi and absolute were null and void.
For help or advice on divorce related matters, contact Teresa Mannion or a member of the Family Law Team on 0121 756 3300. t.mannion@sydneymitchell.co.uk
Pages