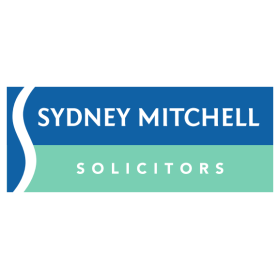 Sydney Mitchell, leading Midlands' Law Firm, is pleased to announce the launch of its new Immigration Department.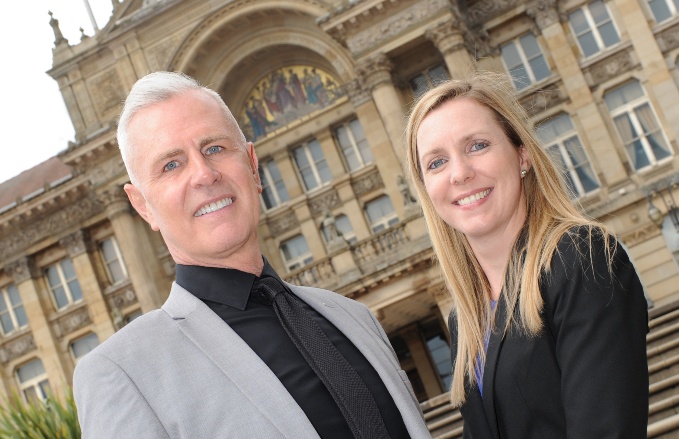 Andre Minnaar, Senior Associate and Melissa Southall, Associate, have taken the reins of the newly formed Immigration department covering the whole of the Midlands and beyond; both join the firm from Cartwright King.
Andre and Melissa have wide ranging and far reaching skills dealing with the ever changing complexities of immigration law. With Brexit or No-Brexit on the horizon their skill sets will be of great help to those faced with the turmoil caused when facing human rights issues.
Andre is an expert in resolving complicated UK immigration, asylum and nationality problems of all kinds and is well known and respected for his in depth knowledge, guidance, support and thorough preparation whilst keeping his clients informed throughout the process. He is an experienced tribunal advocate, having successfully represented hundreds of appellants during his long career, often succeeding where others have failed.
Melissa is an experienced Solicitor and provides extensive personal immigration advice on spouse visas, applications for children, asylum and European applications. She has experience in all kinds of immigration and asylum work, and has a particular interest in applications involving the rights of children. She has worked with a number of Local Authorities over the years representing children in Local Authority care who have immigration problems.
Sydney Mitchell is recognised in the 'Top Tier' of the Legal 500 as a highly regarded practice and both Andre and Melissa have received outstanding comments from clients and contacts covered in the Legal 500.
Newly appointed Senior Partner, Karen Moores, welcomed the team, commenting:
Both Andre and Melissa are a great addition to the firm. As a firm we are always looking to help and develop the service we offer to our clients. As a divorce lawyer and Senior Partner of the firm, I see first-hand the complexities encountered in dealing with children and family matters where there are foreign jurisdictions involved. I am looking forward to working with them both.
Individuals, who are looking to work, live or just visit the UK from countries where they have been refused entry into the UK will be in safe hands with Andre and Melissa.
Andre comments that:
I am pleased to be joining such a well-established and respected legal firm in the Midlands.
I pride myself in delivering a friendly and excellent service where no stone is left unturned to ensure that not only I meet my client's expectations, but exceed it. As an immigrant who went through the immigration process myself, I understand exactly what my clients are going through.
Melissa added:
I am passionate about helping those affected by strict immigration rules. Whatever stage our clients are at, we put our heart and soul into overcoming the hurdles that they face to ensure their applications are dealt with fairly and ultimately reach a favourable outcome.
Sydney Mitchell is a Midlands based award winning law firm, with offices in Birmingham City Centre, Sheldon and Shirley with additional facilities in Sutton Coldfield.
The firm has specialist teams that include employment, commercial property, company and commercial services, litigation and insolvency. Private client teams include family law, residential property, dispute resolution, immigration and wills and probate, tax and trusts and personal injury.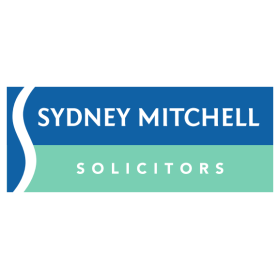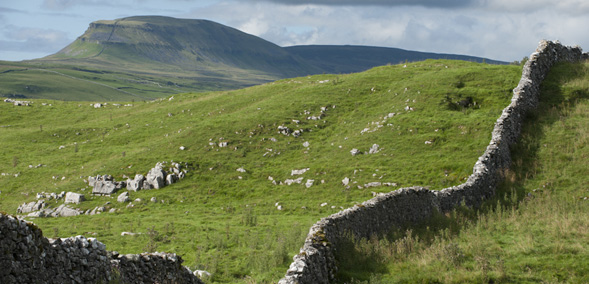 On the 6 July a team of four intrepid climbers from Sydney Mitchell Solicitors will take on the Yorkshire 3 Peaks Challenge. 12 hours, 3 Peaks, 64 pairs of socks and an abundance of plasters, is in between them and victory.
They are taking on this gruelling challenge to raise funds for two worthy causes, Age UK Solihull and The Buddy Bag Foundation.
Age UK Solihull is a charity with a mission to improve the lives of older people within the Solihull Borough. Age UK Solihull provides many services including social clubs and befriending programmes to tackle feelings of isolation and loneliness many within the older generation are going through.
Please click on the following link to learn more: https://www.ageuk.org.uk/solihull/about-us/
The Buddy Bag Foundation provides comfort to children who enter emergency care after fleeing violent situations at home. Buddy bags help to restore a sense of safety and security into a child's life during a traumatic time.
To learn more about The Buddy Bag Foundation click on the following link: https://buddybagfoundation.co.uk/our-mission/
To sponsor our "Peaky climbers" in their aim to raise money for these two charites please click on the link below and donate, all donations are welcome.
https://uk.virginmoneygiving.com/Team/PeakyClimbers-Sydneymitchell
Watch out for more information. Hour by hour coverage will be posted on the 6 July on our Facebook page @SydneyMitchellSolicitors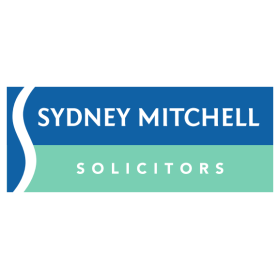 Sydney Mitchell is recognised in the Top Tier of the Legal 500 and is '
very strong
' and '
probably the best in central Birmingham outside the large National and International Firms
' for dispute resolution and commercial litigation matters.
Sydney Mitchell has again been recognised as a Tier 1 firm for its Contentious Wills and Probate work; with a 'driven professional team' led by Kamal Majevadia handling a variety of high-value complex cases.
In total the firm has obtained recommendations in 13 areas of legal practice; Contentious Probate, Commercial Litigation, Debt Recovery, Insolvency and Corporate Recovery, Employment, Clinical Negligence, Personal Injury, Professional Negligence, Family, Personal Tax, Trusts and Probate, Health, Commercial Property and Property Litigation.
Sydney Mitchell's clients have made some excellent comments on the work undertaken by the legal teams.
Div Singh, Senior Partner, Sydney Mitchell commented:

"What an excellent result again this year for Sydney Mitchell, with the firm maintaining its ranking in Tier 1 for our Contentious Probate work and in particular Kamal Majevadia being singled out as a 'leading individual'".

Many of our talented solicitors have been named throughout for their hard work with our 'client care second to none'.

It is great to see new team members being recognised, David Lydon, Adam Hodson, Samantha Glynn, Hayley-Jo and Gemma especially have shone through this year. Our clients and referrers have made fantastic comments on the work we have undertaken including…

'solid, well respected team', 'can-do attitude' 'an approach to client care that is second to none', 'caring straight-to-the-point' and 'manages expectations'.

What more can you ask for than recommendations from your clients for the excellent service received for work undertaken by our legal teams.
Dean Parnell is recognised as "very experienced and sensible; ...calm and reassuring, firm but not aggressive and tactically astute negotiator who secures good deals for his client' and '…strong on shareholder disputes and claims relating to directors'.
Karen Moores, Head of the Family Team, is recognised for her 'compassionate' and 'understanding' manner.
Leading Midlands Law firm Sydney Mitchell is ranked in 13 Legal 500 categories and won Birmingham Law Firm of the Year 2018.
END
Legal 500 information links are included below:
West Midlands: Dispute resolution
Sydney Mitchell LLP is 'very strong', and for some 'probably the best in central Birmingham outside the large national and international firms'. The practice handles a range of matters, many of which with fraud elements, with clients ranging from international businesses, trade bodies, regional businesses and individual executives. Dean Parnell, whose expertise includes acting as a supervising solicitor for court-ordered searches, on top of being 'very experienced and sensible: he is calm and reassuring, firm but not aggressive, and a tactically astute negotiator who secures good deals for his clients', is 'particularly strong on shareholder disputes and claims relating to directors' – he represented a foreign company on recovery of losses from director-level frauds. Kamal Majevadia acted for an engineering company concerning unpaid invoices for engine components – he also handles cases concerning alleged fraud.
Sydney Mitchell LLP 's workload includes a number of matters acting for finance providers concerning lending secured on residential property, plus matters concerning social care fees, vehicle finance and unpaid invoices. Kam Majevadia heads the practice, with solicitor Hayley-Jo Lockley a name of note below partner level. Gemma Parker is a key legal executive. Clients include West Bromwich Commercial.
West Midlands: Finance
Sydney Mitchell LLP's Leanne Schneider-Rose advised an insolvency practitioner on gaining access to and possession of a sports and leisure club, and handled several cases concerning the sales of care homes from administration. Section 216 cases and personal bankruptcy are also areas of expertise.
West Midlands: Human resources
Sydney Mitchell LLP is 'a solid, well respected team' that is 'a very popular locally' with 'a reputation that is growing nationally'. Dean Parnell leads the team and is 'very popular with clients', and has 'a "can-do" attitude'. He has a broad expertise in employment, and acts on behalf of employers and very senior employees. Also recommended is solicitor Samantha Glynn, who specialises in contentious issues.
West Midlands: Insurance
Sydney Mitchell LLP handle a range of clinical negligence claims, with 'an approach to client care that is second to none'. Mike Sutton heads up the team and 'very well respected locally'. He is assisted by senior personal injury executive David Lydon, Adam Hodson and Stephen Jesson.
Personal injury: claimant
Sydney Mitchell LLP is 'a small team that has built up considerable experience', whose 'approach to client care is second to none'. Mike Sutton leads the team and is 'very well respected locally within the profession'. He specialises in handling road and work accidents, and recently represented a client who suffered from complex regional pain syndrome due to falling from a ladder. David Lydon recently joined the firm from Pearson Rowe Incorporating Springthorpes and has a similar focus on work and road accidents. He recently acted for an individual who required amputation to due to injuries suffered by his fingers while at work. Also recommended is solicitor Adam Hodson.
Sydney Mitchell LLP 's litigation team is highly active in professional negligence cases, most notable against in the areas of legal services and construction. Sundeep Bilkhu is a key figure with extensive experience in negligence relating to property transactions.
West Midlands: Private client
Sydney Mitchell LLP
The 'driven' and 'professional' Sydney Mitchell LLP is led by Kamal Majevadia who is a 'caring, straight-to-the-point person' who 'tells it like it is' and 'manages your expectations'. He is particularly known for disputes on estates with a cross-border or commercial aspect. Shirley-based Tracy Creed is also a key figure, with notable strengths in probate, trusts and estate planning.
Sydney Mitchell LLP
The 'excellent' Sydney Mitchell LLP focuses on complex matrimonial disputes and childcare arrangements. Karen Moores is a key contact and is known for her 'compassionate' and 'understanding' manner. Mauro Vinti is also recommended and advises on all aspects on relationship breakdowns.  
The 'excellent' Sydney Mitchell LLP is particularly strong in dealing with elderly client issues, with additional expertise in wills and estate planning, powers of attorney and administration work. Tracy Creed leads the team and has extensive experience in probate and trust matters. Also recommended is Shirley based solicitor Nicholas Bennett , who focuses on will and probate issues, and solicitor Ravinder Sandhu, who is experienced in wills, trusts and probate issues.
West Midlands: Public sector
Sydney Mitchell LLP focuses on GP mergers, disputes, leasing and tax issues. Fahmida Ismail leads the team and is heavily involved in property and finance matters pertaining to GPs and medical practices. Consultant solicitor Tony Harris is active on Primary Care Commissioning and extending existing GP premises. Consultant solicitor Dean Parnell works on commercial disputes and employment issues.
West Midlands: Real estate
Sydney Mitchell LLP's team handles a range of multimillion-pound deals. Consultant Georgina Walsh in Shirley handles work concerning purchases and sales of development sites... At partner level Div Singh , who is based in Birmingham, also handles buy-side deals, often involving title issues. Fahmida Ismail is also a key contact.
Sydney Mitchell LLP
At Sydney Mitchell LLP, associate Sundeep Bilkhu handles a range of commercial property disputes, frequently acting for landlords. Highlights include representation of a landlord in a dispute over the unauthorised removal of a stud wall, which was initially thought to have caused £30,000 of damage but triggered a subsequent order from the local authority to demolish and replace the buildings. Other work concerns boundary restrictive covenant disputes and Party Wall Act matters. In Shirley, Kam Majevadia handles trespass to land matters concerning residential developments, including Court of Appeal cases.
---
Further information on Sydney Mitchell LLP
Please choose from this list to view details of what Legal 500 say about Sydney Mitchell LLP in other jurisdictions.
West Midlands
Offices in Birmingham, Shirley, and Sheldon
Our lawyers are recommended in The Legal 500 United Kingdom 2018 editorial (listed below)
WEST MIDLANDS
Dispute resolution - Commercial litigation - Birmingham
- Dean Parnell
- Kamal Majevadia
Dispute resolution - Debt recovery
- Kamal Majevadia
- Hayley-Jo Lockley
- Gemma Parker
Finance - Insolvency and corporate recovery
- Leanne Schneider-Rose
Human resources - Employment
- Dean Parnell
- Samantha Glynn
Insurance - Clinical negligence - claimant
- Mike Sutton
- David Lydon
- Adam Hodson
-Stephen Jesson
Insurance - Personal injury - claimant
- Mike Sutton
- David Lydon
- Adam Hodson
Insurance - Professional negligence
- Sundeep Bilkhu
Private client - Contentious trusts and probate
- Kamal Majevadia (leading individual)
- Tracy Creed
Private client - Family - Birmingham
- Karen Moores
- Mauro Vinti
Private client - Personal tax, trusts and probate
-Tracy Creed ~
- Nicholas Bennett
- Ravinder Sandhu
Public sector - Health
- Dean Parnell
- Fahmida Ismail
- Tony Harris (Deceased)
Real estate - Commercial property - Birmingham
- Georgina Walsh
- Div Singh
- Fahmida Ismail
Real estate - Property litigation
- Sundeep Bilkhu
- Kamal Majevadia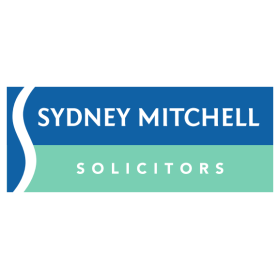 Fantastic news Sydney Mitchell has won Law Firm of the Year in the 5-15 partners' category in the Birmingham Law Society Awards 2018. A great achievement! Thank you to all the partners and staff who made this achievement possible.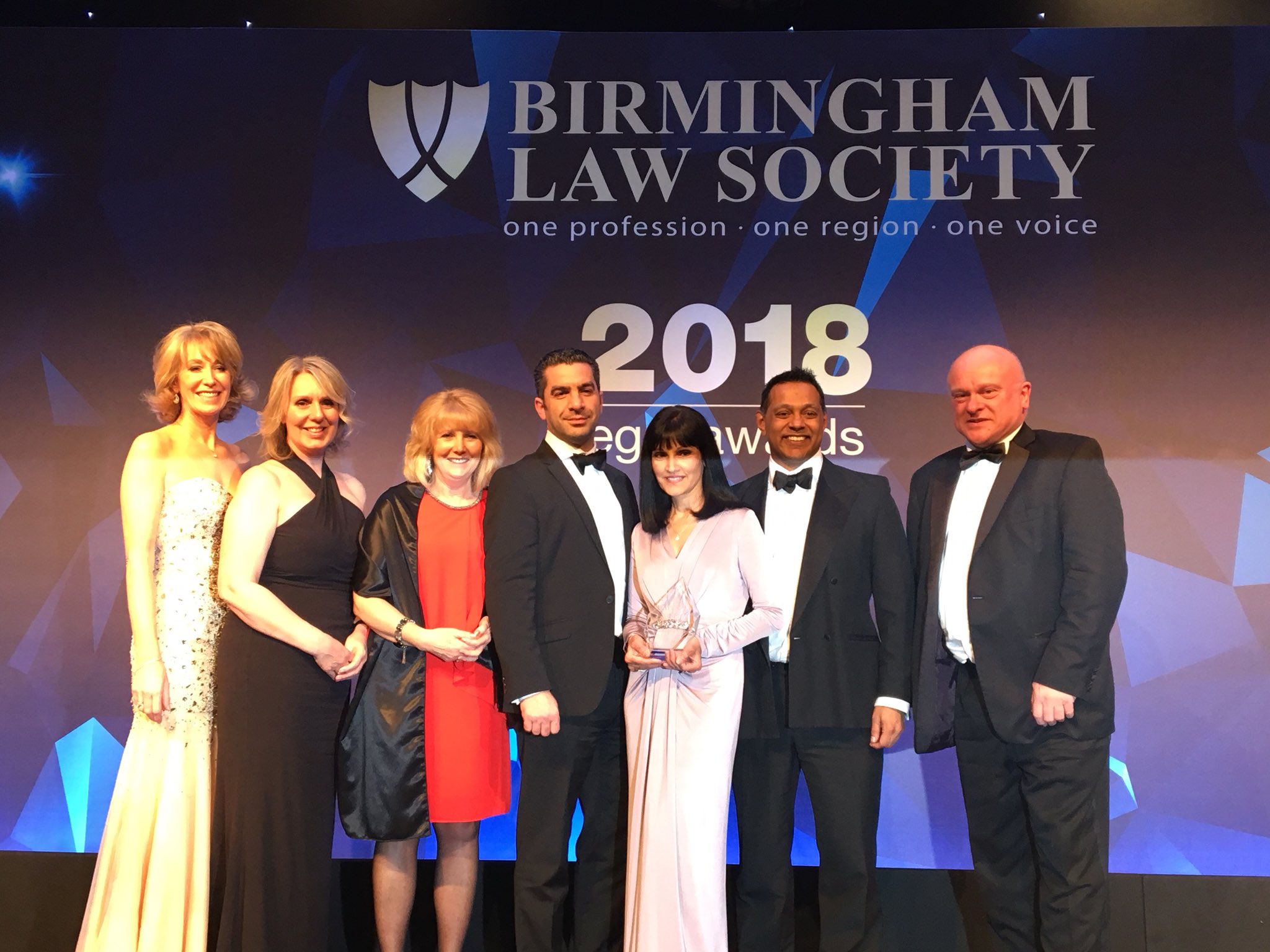 Partners Fahmida Ismail, Sarah Archer, Kam Majevadia, Tracy Creed, Dean Parnell and Mauro Vinti accepted the award on the night presented by Emma Jesson and the category sponsored by Tony Rollason (Landmark Information Group).
Fahmida Ismail commented:
What an excellent result, recognising the hard work contributed by every single person in the firm in making us exceptional and being recognised by the Birmingham Law Society as Law Firm of the Year.

We are all extremely proud to continue to serve our clients to the highest standard. Birmingham has such a lot to offer businesses and individuals and Awards like this just continue to show that we have great quality firms and people here in Birmingham.
Sydney Mitchell specialist teams include employment, commercial property, company and commercial services, litigation and insolvency. Private client teams include family law, residential property, dispute resolution and wills and probate, contentious probate, tax and trusts and personal injury.
Sydney Mitchell previously won this award in 2008, 2011, 2013, 2014, 2015 and it is a fantastic result that the firm has won the award in 2018.
Well done to all the winners in the Birmingham Law Society Awards 2018 - full list link attached
http://www.birminghamlawsociety.co.uk/2018winners
If you would like help on any legal matters, please call 0121 698 2200 or email enquiries@sydneymitchell.co.uk or fill in our online enquiry form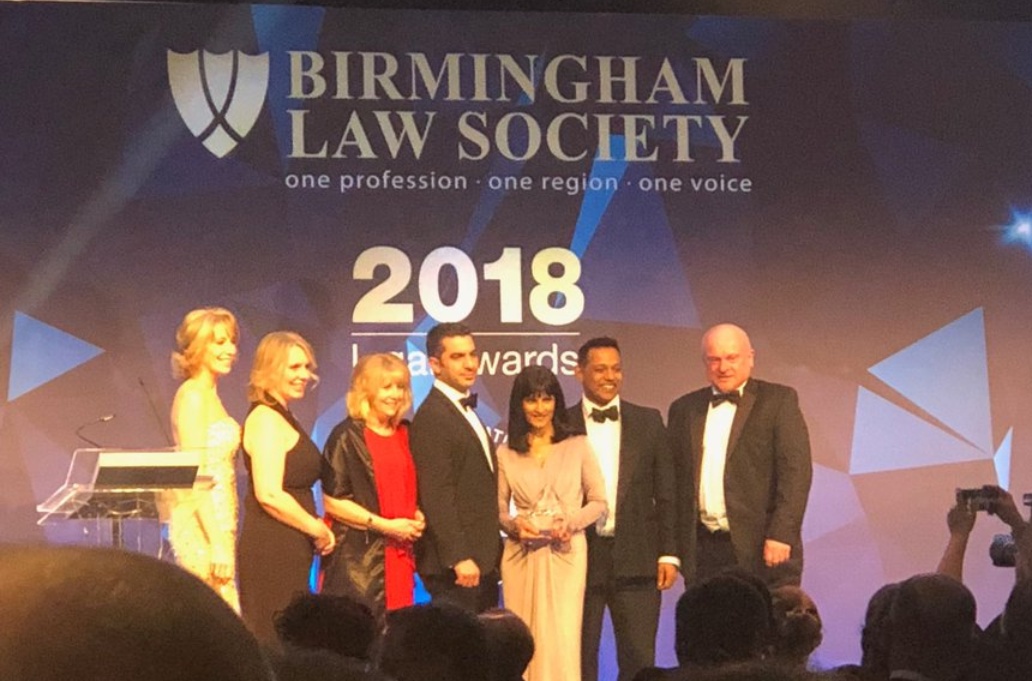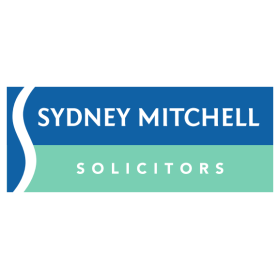 Sydney Mitchell Peaky Climbers have completed their Yorkshire Three Peaks climbing challenge raising funds for our nominated charities Age UK Solihull and The Buddy Bag Foundation. This page was updated throughout the day with the progress of the team on route. A few pictures below and videos showing their progress. The funds raised so far with giftaid are £1857.50. Link to sponsorship page...
What a fantastic achievement by all... completing the climb in their target time of 11hrs 45mins.
Jennifer Robinson
Kirsty O'Reilly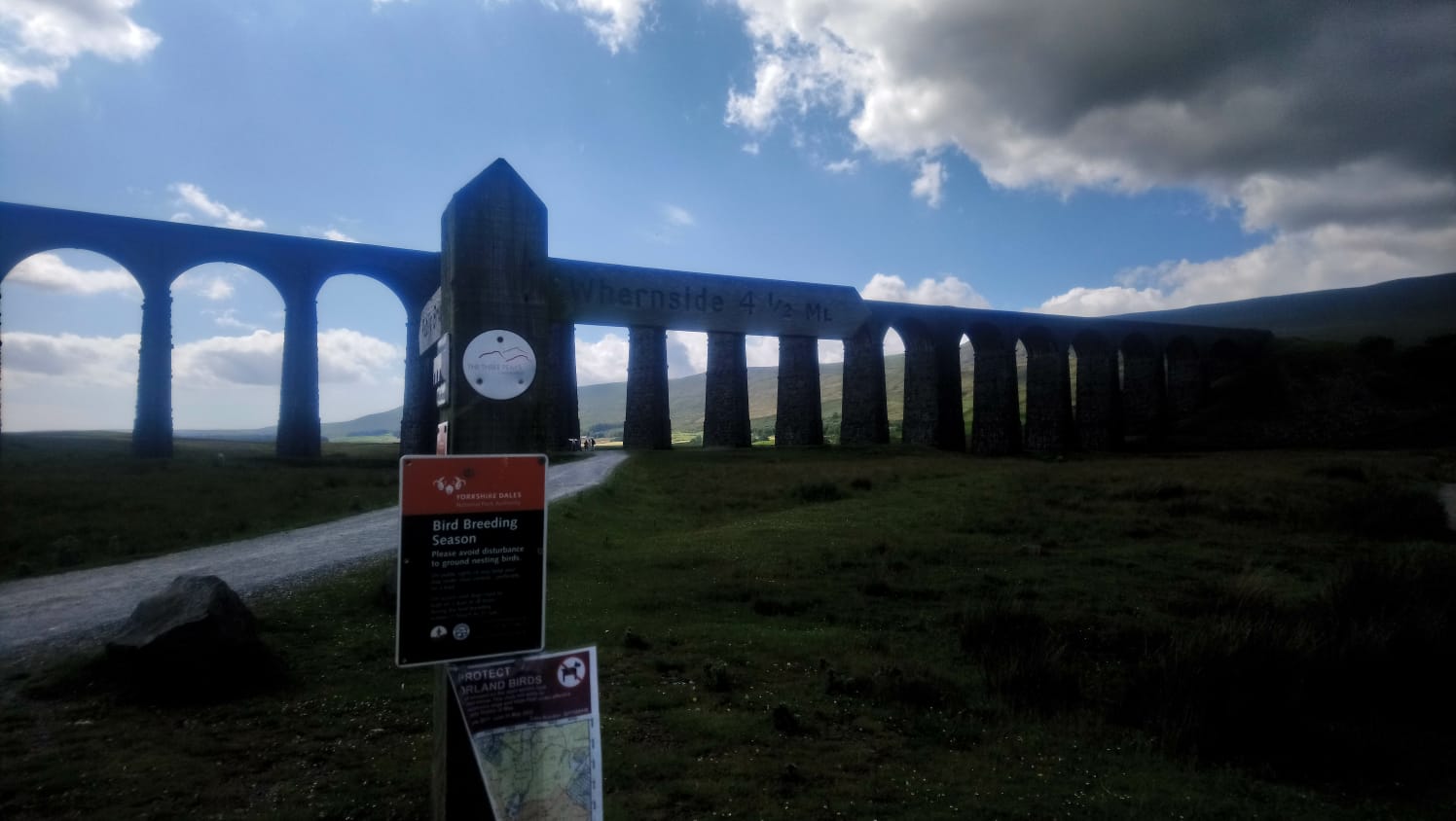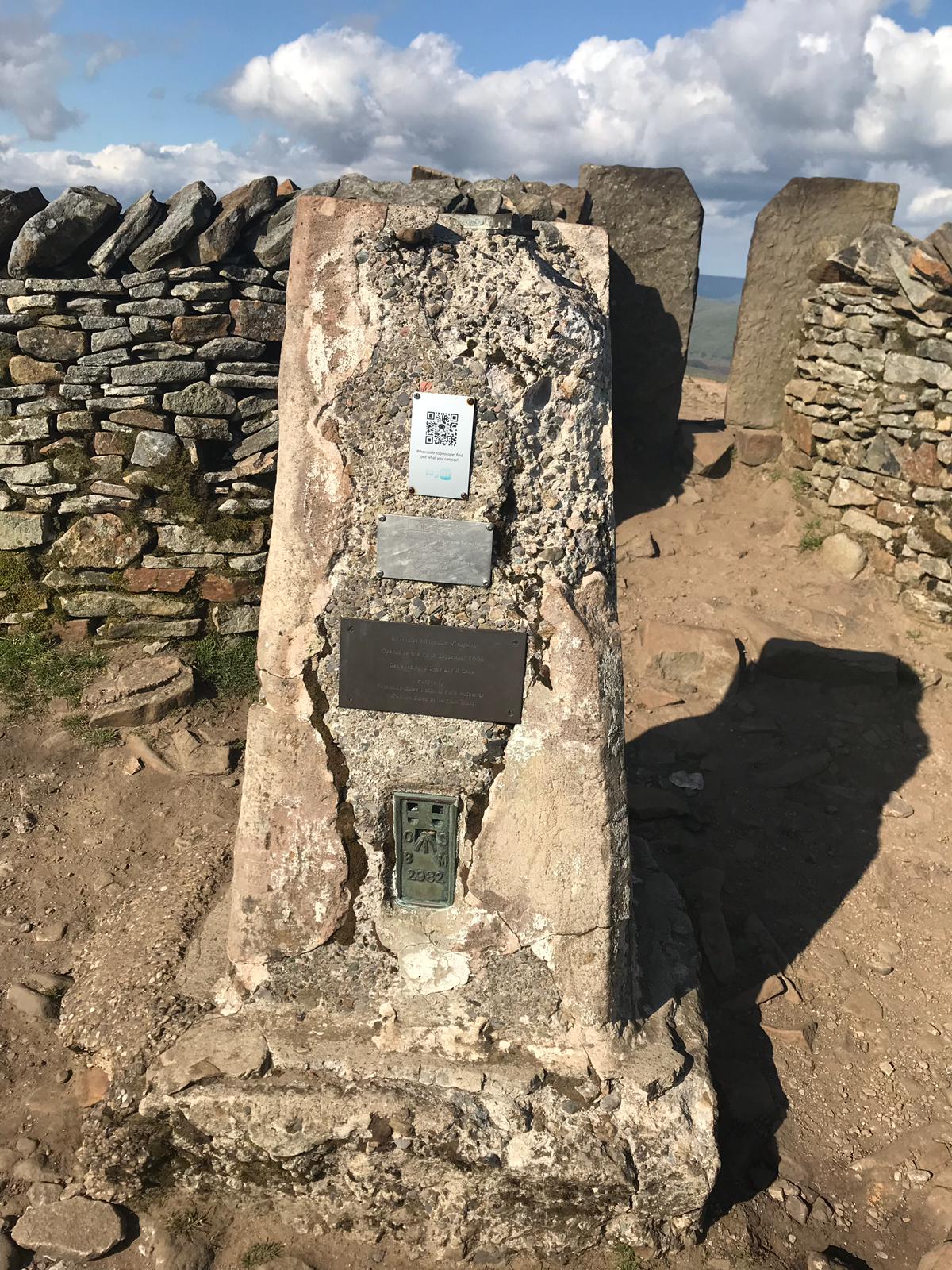 Video links
At the start...
2nd peak rising
Final Peak
https://www.youtube.com/watch?v=OKx69r16wFk
When the sale of a company is taking place, it is usual for warranties to be given regarding how the company being sold has conducted its affairs prior to the sale. Making sure these are accurate is essential.
In a recent case, the purchaser of a company that sold 'lost key' and legal expenses insurance policies brought a legal action against the vendors. The purchase price of the shares was nearly £2.4 million. The warranties given included the usual ones that the company's last filed accounts were fairly stated and did not include any unusual or non-recurring items other than as disclosed, and that the subsequent management accounts at the date of sale fairly represented the position of the company.
The vendors had agreed to the sale on the condition that the purchaser would complete within two weeks, claiming that the price represented a good deal for the purchaser. No due diligence work was performed. The share purchase agreement limited the sum recoverable for breach of warranty claims to the purchase price, and also made the first £500,000 of any claim irrecoverable.
The purchaser alleged that some of the representations were not true, that there was an understatement of some liabilities, and that the balance sheet also included a loan that should have been written off. Importantly, the company had changed the method by which it remunerated brokers, and the liability to them in respect of commissions was alleged to be understated.
The result was a four-day trial with considerable expert testimony. The High Court found that the claim was supported and that the losses arising from the breach of warranty amounted to more than the purchase price plus £500,000. It therefore ordered the vendors to pay damages equal to the purchase price.
Julian Milan commented:
"The case illustrates the dangers for both sides if a sale is rushed through without the necessary work having been completed to verify that the financial and other information being presented is accurate."
For assistance in negotiating the purchase or sale of a business, contact Julian Milan on 0808 166 8827 or email j.milan@sydneymitchell.co.uk
Many long leaseholders mistakenly believe that they have much the same rights as freeholders and can do pretty much what they like with their properties. As one case strikingly showed, however, ignoring the terms of your lease can put both your home and your investment at risk.
The case concerned a Victorian house which had been converted into four long leasehold flats. Under their leases, tenants were subject to a number of covenants which, amongst other things, forbade them from doing anything that might cause a nuisance or annoyance to other residents. Restrictions were also placed on their use of the common garden and they were in particular banned from removing, damaging or disturbing trees, shrubs and other plants.
The company that owned the freehold of the house launched proceedings against one of the tenants, alleging that he had committed numerous breaches of those covenants. Amongst other things he had, without consulting other residents, installed CCTV surveillance cameras at the front and rear of the property that captured images of anyone entering the house or garden. Despite receiving a legal warning to cease and desist, he had pressed ahead with erecting a shed in the garden, digging up a number of shrubs and trees in the process.
Ruling on the matter, the First-tier Tribunal (FTT) found that the installation and use of the CCTV cameras caused an annoyance to other tenants. The erection of the shed breached a covenant requiring that the common garden be used only as a private pleasure garden. The uprooting of trees and shrubs was a further breach of covenant. The FTT's ruling opened the way for the freeholder to seek forfeiture of the tenant's lease.
For help and advice on matters such as this please contact Sundeep Bilkhu on 0808 166 8827 or email s.bilkhu@sydneymitchell.co.uk
The Public Interest Disclosure Act 1998, often referred to as the 'Whistleblowing' Act, gives workers legal protection when disclosing information relating to crimes, breaches of a legal obligation, miscarriages of justice, dangers to health and safety or the environment and to the concealing of evidence relating to any of these.
Where someone decides to 'blow the whistle' to a prescribed person rather than their employer, it is important that they choose the correct person or body for that particular issue.
The Department for Business, Energy and Industrial Strategy has recently updated the list of prescribed persons and bodies to whom a disclosure can be made. Each entry contains a brief description of the matters that can be reported to that prescribed person or body.
In addition, a person may choose to blow the whistle to their legal adviser, in the course of obtaining legal advice, or to a member of the House of Commons about any matter specified in the Public Interest Disclosure (Prescribed Persons) Order 2014. Contact details for Members of Parliament can be found on the UK Parliament website www.parliament.uk.
The updated list of prescribed persons and bodies can be found at https://www.gov.uk/government/publications/blowing-the-whistle-list-of-prescribed-people-and-bodies--2?utm_source=3678ce1b-b18b-48ce-8a8b-f3441046b38a&utm_medium=email&utm_campaign=govuk-notifications&utm_content=daily.
For help and advice on employment Law matters please contact Emma Hewitt on 0808 166 8827or email e.hewitt@sydneymitchell.co.uk
Cases in which product prices rise very sharply are relatively infrequent and are likely to raise a red flag that something may be amiss.
The Competition and Markets Authority (CMA) has announced its finding that four pharmaceutical companies colluded over a five-year period not to compete with one another in the supply of an anti-nausea drug. The effect was an increase of 700 per cent in the sum paid by the NHS for the drug.
Action is being taken against the firms, and it is likely that the result will be punitive fines.
It should be remembered that any anti-competitive activity is unlawful under the Competition Act 1998 and can lead to substantial fines as well as the naming and shaming of the businesses involved.
If you are invited to join in anti-competitive activity or your business is being affected by anti-competitive activity, we can advise you of the appropriate steps to take.
For help and advice on Corporate and Commercial matters please contact Julian Milan on 0808 166 8827.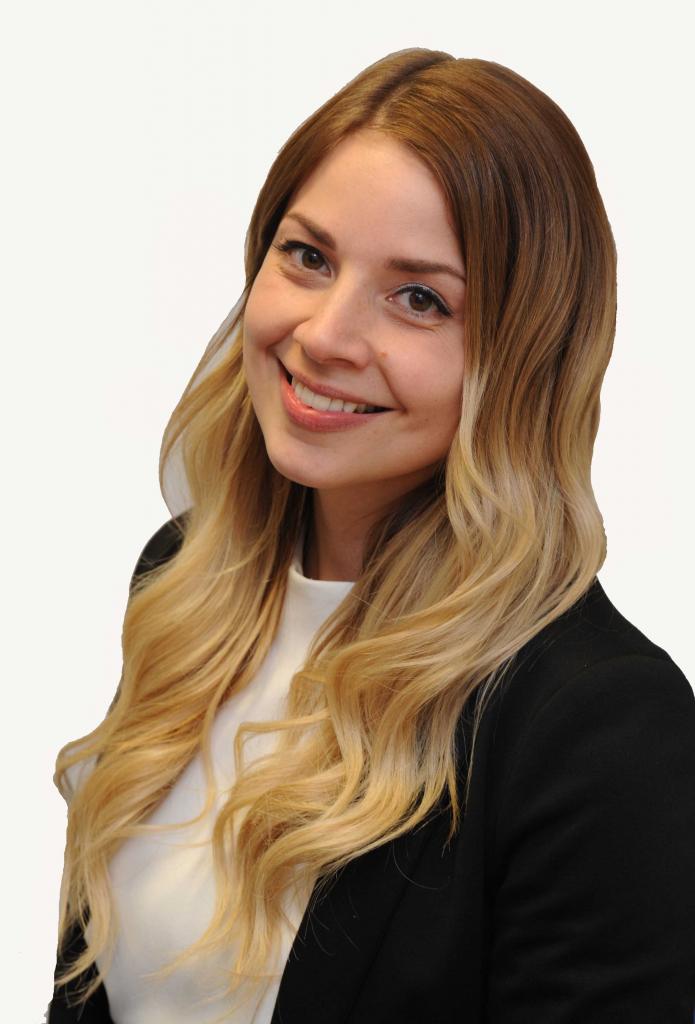 Companies are notoriously difficult to value and particular difficulties can arise when they form the principal assets to be divided in divorce proceedings. In a big money case on point, the High Court bridged a huge gulf between the value placed by a wife and a husband on the latter's business interests.
The couple's marriage, which yielded two children, lasted about seven years. His business interests, principally his 40 per cent shareholding in the company for which he worked, represented by far their biggest asset. There was a gaping divide of about £9.5 million between the value put on those interests by the wife and that contended for by the husband.
On the basis of accountancy evidence, the Court valued the husband's net business assets at a little under £17.9 million. Those assets were agreed to be matrimonial property and the husband was ordered to pay the wife half of their value, a lump sum of £8,948,930. The wife, who was anxious to achieve financial independence as quickly as possible, argued that the husband should be ordered to sell his shares within 12 months and that, if he failed to do so, a receiver should be appointed to enforce their disposal.
The Court, however, noted that it was not a propitious time to sell the shares, in that the company had just experienced its two worst ever years of trading. The wife, who was from a wealthy background, was not in immediate need of funds and an early forced sale of the shares was likely to cause both her and the husband significant financial loss. The Court therefore set a date about four years in the future when the husband would be required to pay the lump sum in full.
The Court made further orders designed to equalise the couple's other assets and to make provision for their accommodation and other needs. The husband was ordered to make annual maintenance payments to the wife pending remittance of the lump sum, when a clean break would be achieved. He was also required to pay maintenance for the children and to pay their school fees.
For help and advice on any family Law matters please contact Emma Gray on 0808 166 8860.
Pages