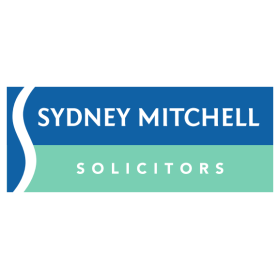 Fantastic news Sydney Mitchell has won Law Firm of the Year in the 5-15 partners' category in the Birmingham Law Society Awards 2018. A great achievement! Thank you to all the partners and staff who made this achievement possible.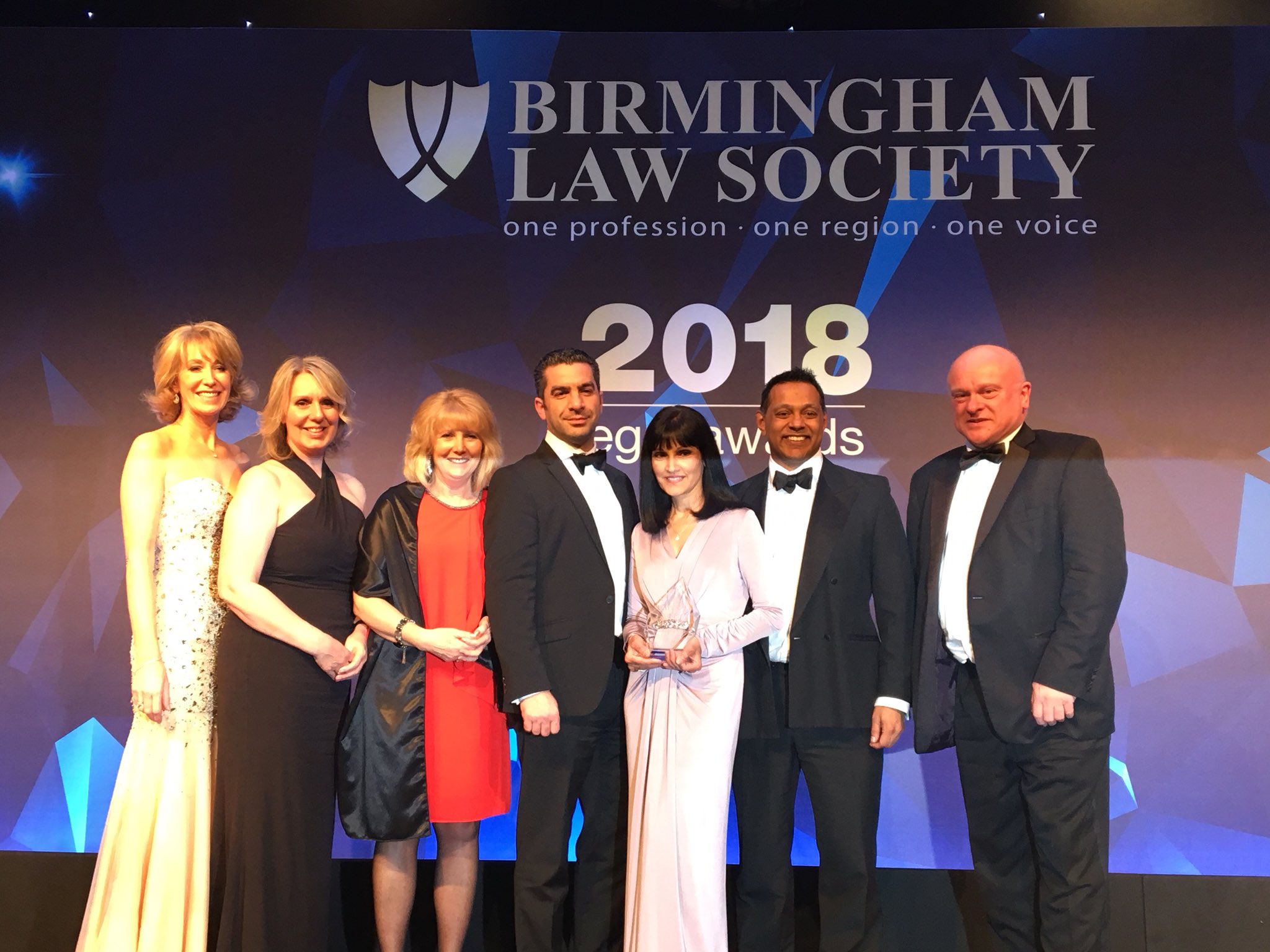 Partners Fahmida Ismail, Sarah Archer, Kam Majevadia, Tracy Creed, Dean Parnell and Mauro Vinti accepted the award on the night presented by Emma Jesson and the category sponsored by Tony Rollason (Landmark Information Group).
Fahmida Ismail commented:
What an excellent result, recognising the hard work contributed by every single person in the firm in making us exceptional and being recognised by the Birmingham Law Society as Law Firm of the Year.

We are all extremely proud to continue to serve our clients to the highest standard. Birmingham has such a lot to offer businesses and individuals and Awards like this just continue to show that we have great quality firms and people here in Birmingham.
Sydney Mitchell specialist teams include employment, commercial property, company and commercial services, litigation and insolvency. Private client teams include family law, residential property, dispute resolution and wills and probate, contentious probate, tax and trusts and personal injury.
Sydney Mitchell previously won this award in 2008, 2011, 2013, 2014, 2015 and it is a fantastic result that the firm has won the award in 2018.
Well done to all the winners in the Birmingham Law Society Awards 2018 - full list link attached
http://www.birminghamlawsociety.co.uk/2018winners
If you would like help on any legal matters, please call 0121 698 2200 or email enquiries@sydneymitchell.co.uk or fill in our online enquiry form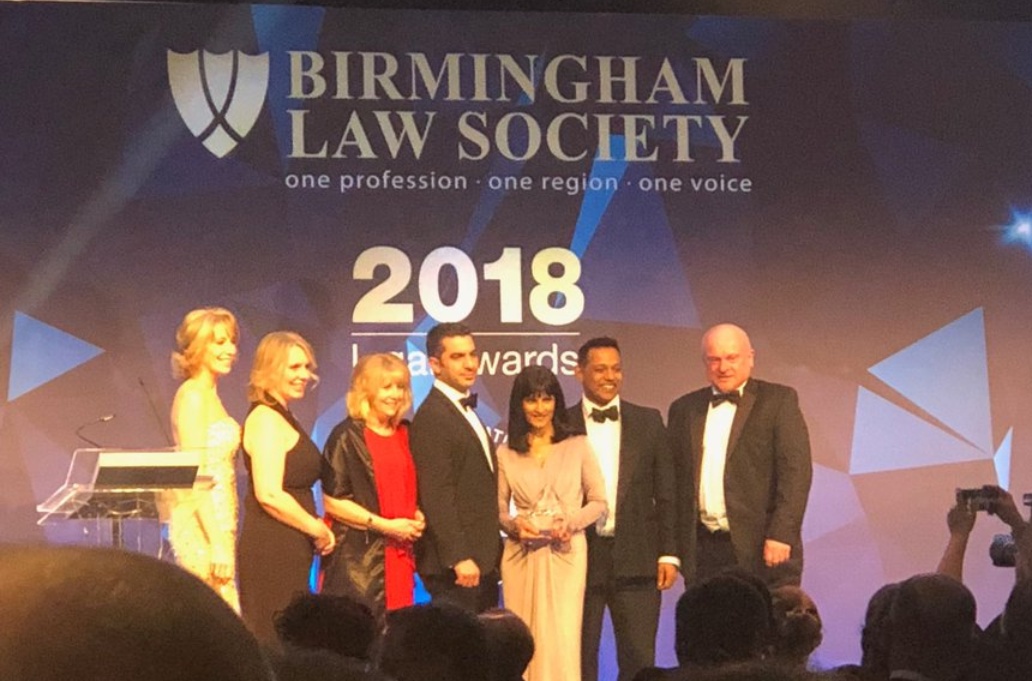 Shropshire hospitals baby deaths review cases rise to over 100, as CQC takes urgent action against maternity services
More details on BBC News:
https://www.bbc.co.uk/news/uk-england-shropshire-45578515
For help and advice on matters such as this please contact Adam Hodson on 0808 166 8827.
One of the most valuable reliefs from Inheritance Tax (IHT) is Business Property Relief (BPR), which allows the transfer of qualifying business property from the deceased's estate at a nil value for IHT purposes.
The rules on what constitutes business property are many and complex and the principal exclusion from availability for BPR is where a business is an investment business – or put precisely, where its activities 'consist wholly or mainly of dealing in securities, stocks or shares, land or buildings or making or holding investments'.
One big area of contention is that of furnished holiday lettings, which can qualify for favourable treatment with regard to other taxes. However, HM Revenue and Customs see holiday lettings as easy pickings for IHT purposes and will routinely claim that they are investments in land, rather than businesses per se.
By and large, HMRC have been successful with this argument, but not always. The key to the decision will lie in the level of services that are provided with the letting. In a recent case in which the guests were provided with several services, including a pool and sauna, the Upper Tribunal agreed that it was a business.
A number of similar cases are pending and it will be interesting to see just how close to operating as a hotel (albeit one with weekly lets) the business must be to qualify for BPR.
Watch this space.
For help and advice please contact Lucy Bluck, l.bluck@sydneymitchell.co.uk on 0808 166 5638.
Around three in 1,000 babies born in England suffer brain injury at or soon after birth, due to lack of oxygen during delivery. Early research indicates promising results for a new test - Broadband near-infrared spectroscopy (NIRS) - that could help doctors assess brain damage earlier and tailor treatment to prevent deaths and reduce the potential for life-long disabilities.
More details on BBC News:
https://www.bbc.co.uk/news/health-45522794
For help and advice on matters such as this please contact Adam Hodson on 0808 166 8827.
Royal Assent has been given to the Parental Bereavement (Leave and Pay) Act 2018
The death of a child is truly traumatic for any parent and the effects can be devastating and long lasting. No bereaved parent should be put in the difficult position of desperately needing time away from work to grieve but instead having their request for time off rejected by their employer. Whilst many employers do act with the compassion and sensitivity needed at such a difficult time, there are still many employers who do not demonstrate the appropriate level of understanding so this will go some way to help.
This new legislation is due to come into full force by April 2020 and provides a right to two weeks of time away from work for those employees who have sadly lost a child under 18 or suffer a stillbirth from 24 weeks of pregnancy.
All the detail will appear in supporting Regulations (not yet published) which will contain, amongst other things, details of how much remuneration will be payable during the leave.
Put the date in your diary, more information will follow when additional details are published.
For legal help or advice on this or other related Employment Law Matters please speak to Emma-Louise Hewitt e.hewitt@sydneymitchell.co.uk 0808 166 8827
Construction works on neighbouring properties can make your life a misery but, with the right legal advice, you may be able to do something about them. In a case on point, the High Court came to the aid of a woman whose rental property was deprived of light after builders embarked on a project next door.
The woman did not challenge planning permission that her neighbours had obtained for the construction of a new home on their land. However, as work began, gantries, scaffolding and covered conveyor belts were erected that blocked the light to the first floor of her property. She rented out the house to holidaymakers and was losing business due to the works, which were expected to take 60 weeks.
After instructing solicitors, she sought judicial review of the council's decision to approve the construction methods being used by the builders. Also, concerned that the project might cause subsidence damage to her property, she challenged the council's decision to allow her neighbours to excavate and construct the foundations of the new house without requiring them to obtain an expert engineering report and prior approval of the details of the work.
In upholding the woman's complaints, the Court noted that the council had not consulted neighbours before approving the construction methods. The matters had been delegated to a planning officer, who neither gave reasons for nor kept a written record of his decision. The officer had also failed to draw the council's attention to the fact that, after the works had begun, a retaining wall between the woman's property and the new house had collapsed without warning. In the circumstances, the decisions were quashed and the council was directed to reconsider both matters in the light of the Court's ruling.
The activities of others can sometimes cause great irritation, but there may be a way to achieve a resolution. For help and advice contact Sundeep Bilkhu, s.bilkhu@sydneymitchell.co.uk on 0808 166 8827.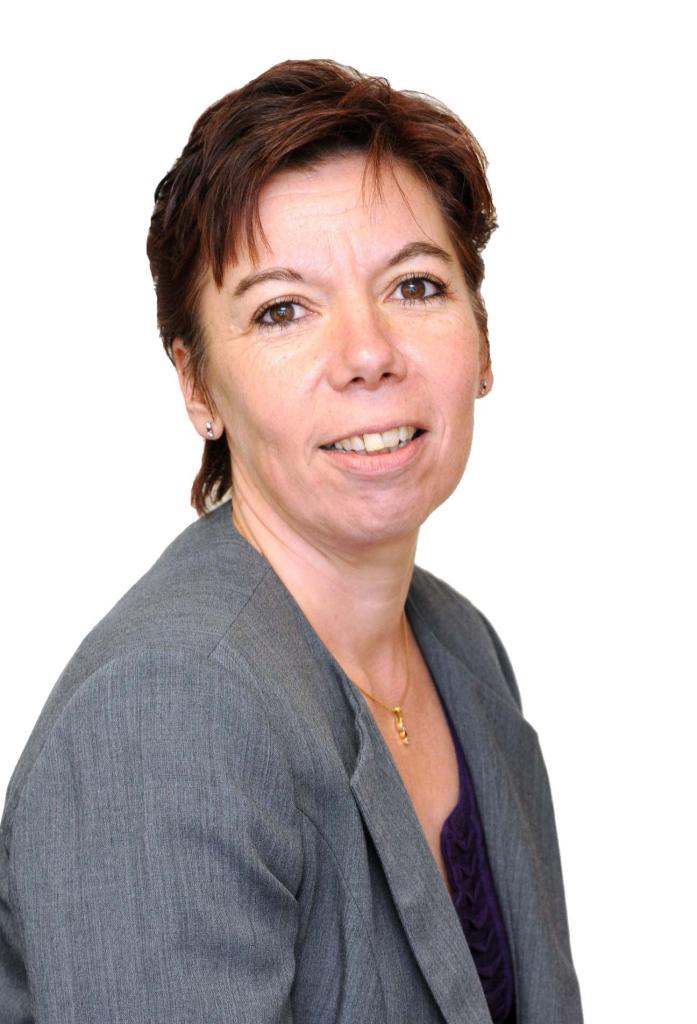 The Supreme Court judges' decision to prevent a wife from divorcing her husband, which was made 'without enthusiasm', is expected to lead to calls for a rapid change in the law.
The case arose after a wife's application for a divorce was opposed by her husband on the basis that the marriage had not irretrievably broken down. Slightly more than 1 in 1,000 divorce applications lead to a contested hearing on that ground. Under the law, there is an automatic right to a divorce only under a limited number of circumstances.
These are:
*Divorce without consent can take place where the couple have lived apart for five years;
*A couple who have lived apart for two years can divorce with the consent of both spouses; or
*A couple can divorce where there is an irretrievable breakdown in the relationship. This can be evidenced in several ways, including adultery, but the essence is that the behaviour of the spouse is such that the other spouse cannot reasonably be expected to live with him or her. In this instance, the husband's behaviour, though far short of what might be expected in a normal loving relationship, was not so egregious as to meet that test.
In this case, the husband believed that a reconciliation was possible, and the couple had not lived apart for five years.
When a petition for divorce is made on the ground of unreasonable behaviour, the normal practice is for such behaviour to be dealt with very briefly, as a detailed exposition can increase the ill-feeling at what is always a difficult time and that in turn can make other aspects (such as the residence arrangements for children and the financial arrangements) more difficult to negotiate. The wife's evidence in respect of her husband's behaviour was therefore limited. For example, in regard to one aspect (that he belittled her in front of others) she called no witnesses to the first court hearing to support her claim.
The appeal to the Supreme Court dealt in essence not with the husband's behaviour as such, but the effect it had on his wife.
Our experts in family law are experienced in dealing with all aspects, contentious or not, of family breakdown.
For help and advice please contact Karen Moores, k.moores@sydneymitchell.co.uk on 0808 166 5638.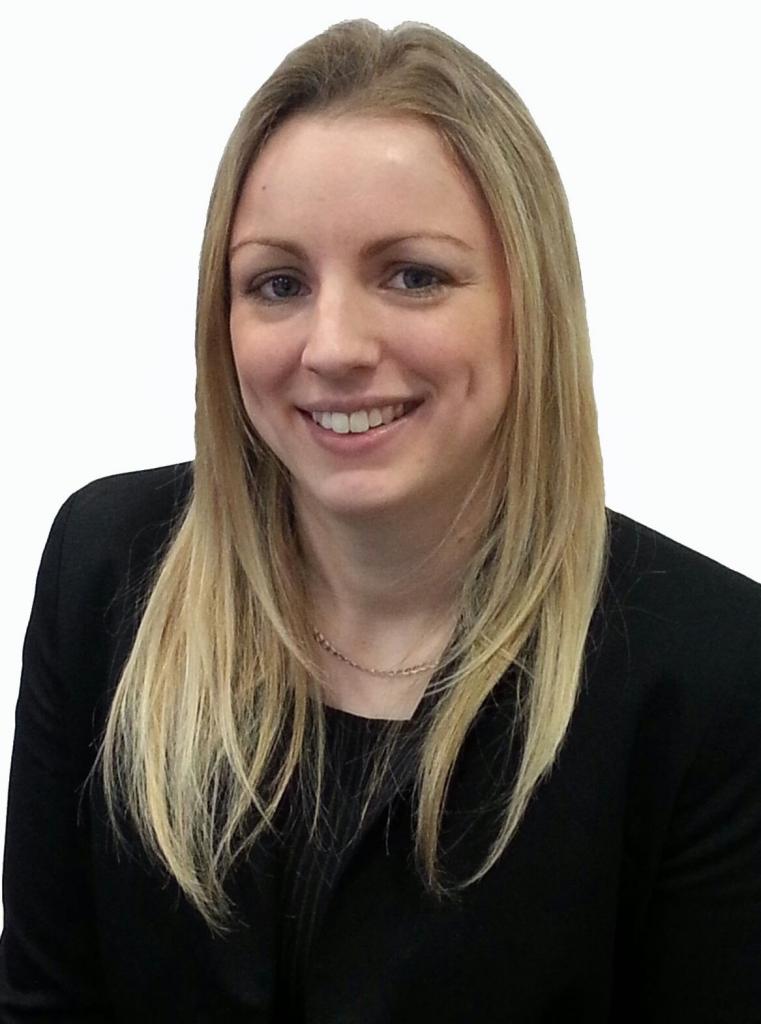 The law that allows someone who was dependent on a deceased person during their lifetime to make a claim against their estate if there is no, or inadequate, provision for them in the will is one of long standing (the Inheritance (Provision for Family and Dependants) Act 1975). However, many people think it applies only to blood relatives.
That this assumption is incorrect was emphatically confirmed in a recent case in which a 70-year-old woman was awarded £325,000 from the estate of a man with whom she had had a relationship lasting more than 20 years, the last seven of which they had spent together in the man's home, which was the principal asset of the estate.
His will left his £1 million estate entirely to his two daughters, both of whom are comfortably off. When his former partner made a claim under the Act, they opposed it, contending that the relationship was not one of permanence and substance.
The judge concluded that the man had clearly had a responsibility to his partner and made the award.
The case raises the following points. The first is that if you are in a similar situation and wish to leave your assets in a particular way, that can normally be achieved, but success may depend on making arrangements well before your demise. Secondly, if you are in a situation in which appropriate provision has not been made for you, a well-founded and well-argued challenge to a will that cuts you out may produce success.
For help and advice please contact Hayley-Jo, h.lockley@sydneymitchell.co.uk on 0808 166 5638.
In 2016 receptionist Nicola Thorp was sent home on her first day of work at a corporate finance company in the City of London. This was because she refused to wear shoes with two to four inch high heels. She launched an online petition calling for the law to be changed and garnered more than 152,000 signatures. The Parliamentary Petitions Committee and the Women and Equalities Committee did find "potentially discriminatory dress codes are commonplace". But in March 2017 Parliament announced it would not be changing the law.
The good news is that the Government Equalities Office has now provided clarity to both employers and employees and job seekers with its publication, "Dress Codes And Sex Discrimination – What You Need To Know", available on the Gov.UK site.
So why is dress code significant? It can present the professional image of a business, or provide consistency, or can be important for health and safety. But it's also a minefield in terms of discrimination.
The Government Equalities Office publication recognises that employers can set a standard for the dress of employees and suggests this is best done in consultation with unions or employees. Employers should take the opportunity to explain their reasoning. A dress code can become a valid term in an employee's contract of employment.
Whilst such a code does not have to be identical for women and men, there should be equivalence.
So it would be hard justifying women wearing formal black clothes when the men can make do with sweatshirt and jeans. But it's acceptable for men to be required to wear ties if women are expected to be equally formal.
Female employees should certainly not be expected to dress provocatively. Dress can lead to harassment especially in retail situations.
So what's a safe dress code? This might for example be a supplied uniform, or a black suit and low heeled black shoes. Transgender staff should be given the option of interpreting the dress code, or wearing the supplied uniform, for whatever gender they choose. It's a question of requiring similar standards from all employees, whether they be male or female or transgender, and treating the requirement with equal rigour in each case.
And finally, gender specific clothing or appearance is to be avoided, and that, of course, includes two to four inch heels.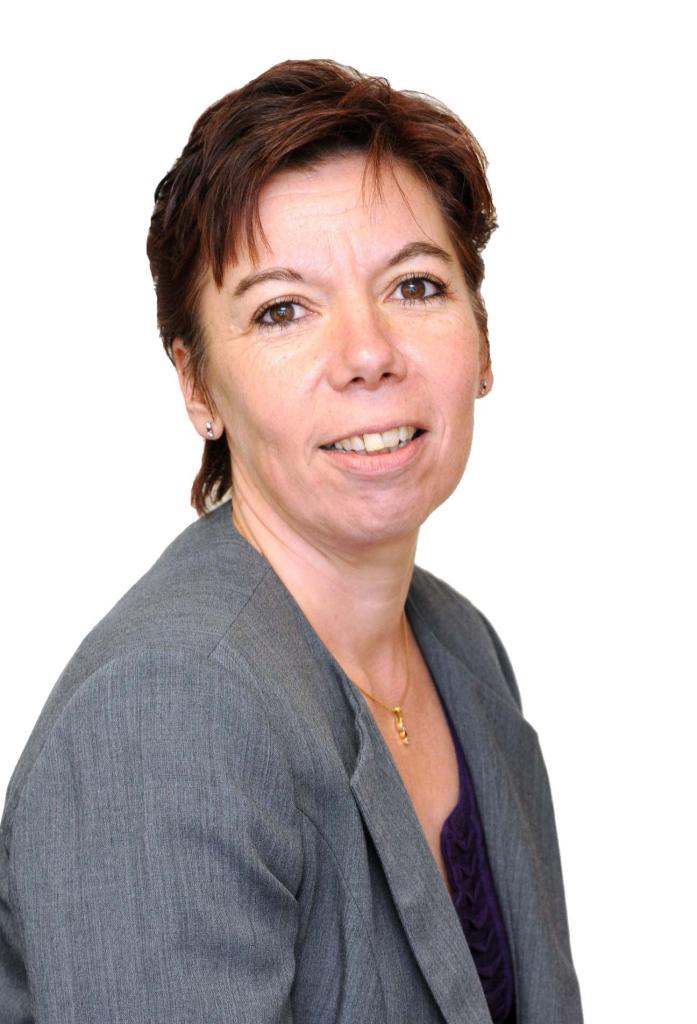 Moving around the globe to where the work is has become a way of life for many, but often begs the question where, if anywhere, a person has settled. A family judge was faced with just that issue in deciding whether a couple's divorce should go ahead in England or in New Zealand.
The couple were born and brought up in New Zealand and there was no dispute that they were domiciled there. The husband's work as an economist had over the years taken him and his family to numerous different countries, including England. After the marriage began to fail, the wife moved to this country and he joined her here during an attempt at reconciliation.
She ultimately petitioned for divorce in England, shortly before he launched parallel proceedings to dissolve the marriage in New Zealand. He applied to stay the English proceedings on the basis that the English courts had no jurisdiction to hear the wife's petition and that the appropriate forum for the divorce was New Zealand.
In dismissing that application, however, the judge noted that, due to their peripatetic lifestyle, the couple had not spent much time in New Zealand for 23 years before the marriage broke down. The wife had been living in England, where she had many family and friends, for two and a half years before lodging her petition and was plainly intent on settling permanently in this country.
She wished to be close to the couple's three children, all of whom seemed to have chosen to make their lives in the northern hemisphere. Whilst it was unclear whether the husband intended to settle in England, he had moved here indefinitely and had taken a job here. Requiring the wife – who was in remission from breast cancer – to litigate in New Zealand was also likely to be burdensome upon her.
The Court noted that both husband and wife wished to divorce in the jurisdiction that they perceived would be most advantageous to them financially. However, in all the circumstances, the balance of fairness and convenience clearly came down in favour of the wife's petition proceeding in England.
Contact Karen Moores, Partner for help and advice on 0808 166 5368 or email: k.moores@sydneymitchell.co.uk
Pages