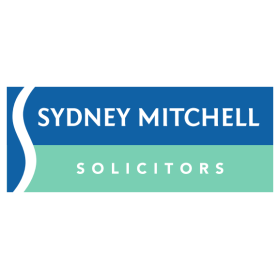 Sydney Mitchell recently held its first Buddy Bag Brigade at the Crowne Plaza hotel in Solihull.  Sydney Mitchell chose The Buddy Bag Foundation as one of their nominated charities for 2019 with the aim of helping children affected by violence at home; it really does pull at the heart strings.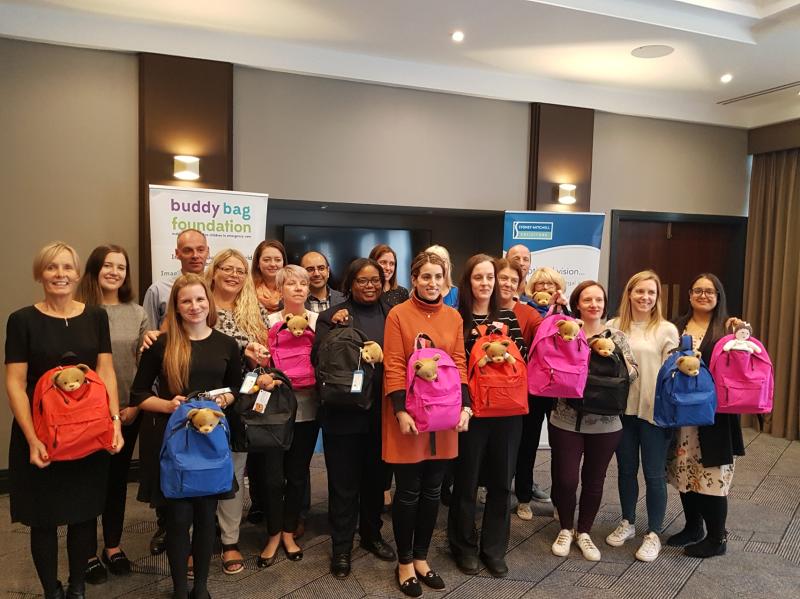 A group of 25 volunteers from Sydney Mitchell and the Crowne Plaza Hotel packed almost 2500 items into 180 bags for the children at the Buddy Brigade.
Each Buddy Bag packed by the team goes to local women's and men's refuges for the children who are often unable to take any personal belongings with them when removed from the family home after experiencing traumatic events.  The Buddy bags are designed to give a little bit of pleasure and comfort to a child at such a terrible time for them and contain items such as pyjamas underwear, some toiletries, a book, notepad, a cuddly toy and something to play with – at a time when they are often frightened and afraid.
Sarah Archer, Partner, Sydney Mitchell commented:
We were all deeply moved when Chris and Karen Williams talked to us about the charity and the great work they do with women's and men's refuges in the region.

The thanks they receive from the children and their parents is heart-warming.  We hope that our effort goes just a little way to give some comfort to the children when they arrive at the shelters.  Just a few thoughtful items can make a difference at a hard time in their life.
A lot of emotion went into packing the bags with such personal items; we were all very glad to have given our time to help such a worthy cause and would encourage others to do so. We wish all those affected by trauma and tragedy in the home, safety and security during their times of need.
Chris Williams, Co-Founder of the Buddy Bag Foundation, said:
It's not just the messages of thanks we receive from the children that makes our efforts so worthwhile but also the positive impact and the wonderful feeling that our volunteers get from being involved in a team building event with purpose. Thank you 'Team Sydney Mitchell' you've made a difference to 180 frightened children.
Nicola Corfield, Sales Manager, Crowne Plaza Solihull added:
We were really pleased to support Sydney Mitchell and the Buddy Bag Foundation on the day and to understand more about the work of this wonderful charity. It is important to all of the team at the Crowne Plaza Solihull that we are there to support our local community and charities.
Legal 500 Top Tier Law Firm Sydney Mitchell is an award winning Midlands based firm with specialist legal teams that include employment, commercial property, company and commercial services, litigation and insolvency. Private client teams include family law, residential property, dispute resolution, immigration and wills and probate, tax and trusts and personal injury. Sydney Mitchell LLP has been providing legal advice in the Midlands for over 250 years.
-Ends-
For further information, please contact:
Linda Heyworth, Senior Marketing Manager
Tel – 0121 746 3300    Mobile: 0777 279 5041
Email – l.heyworth@sydneymitchell.co.uk
Picture:
All staff taking part in the Buddy Bag Brigade, Sydney Mitchell LLP
From left to right…
Anne Breslin, Hayley Caprani-Warner, Gemma Parker, Julian Milan, Linda Heyworth, Sophie Thomas, Debbie Williams, Roy Colaba, Miranda Buttler, Emma-Louise Hewitt, Kiran Siddiq, Jessela Adjei, Wendy Bencens, Hayley Burrill, Teresa Mannion, Mike Sutton, Sarah Archer, Nicola Corfield, Melissa Southall and Aniqa Basharit
About Sydney Mitchell:
Sydney Mitchell is a Midlands based award winning law firm, with offices in Birmingham City Centre, Sheldon and Shirley with additional facilities in Sutton Coldfield. Offering a range of specialist legal services for both businesses and individuals, Sydney Mitchell is listed in the Top Tier of the Legal 500, Lexcel accredited and won the Law Firm of the Year in 2018, 2015, 2014, 2013, 2011 and 2008 (5-15 partners) in the Birmingham Law Society Legal Awards. 
The firm's specialist teams include employment, commercial property, company and commercial services, litigation and insolvency. Private client teams include family law, residential property, dispute resolution, immigration and wills and probate, tax and trusts and personal injury. Sydney Mitchell LLP has been providing legal advice in the Midlands for over 250 years.

l.heyworth@sydneymitchell.co.uk  @SydneyMitchell_   www.sydneymitchell.co.uk
About the Buddy Bag Foundation
The Buddy Bag Foundation was created in response to the rising number of children who enter emergency care after fleeing violent situations at home.  The Foundation helps restore a sense of safety and security into a child's life during a traumatic time.  By providing these children with a few essential items, the charity can help make the transition into emergency care a little easier.  Over 48000 children require emergency accommodation each year in the UK.  Founder Karen Williams launched the Buddy Bag foundation in 2014 after being inspired by the Alannah and Madeline Foundation in Australia. hello@buddybagfoundation.co.uk

www.buddybagfoundation.co.uk @buddybagsuk Charity No. 1164916
About the Crowne Plaza Hotel
Crowne Plaza Solihull is set in the heart of Solihull and just 5 miles from the NEC and Birmingham Airport. The hotel offers a range of bedroom types, 12 meeting rooms, a heated swimming pool and a lakeside terrace restaurant. Free WiFi is available throughout and free on-site parking is available. The hotel has a range of conference facilities including 12 meeting rooms which can hold up to 200 delegates. The on-site leisure club, Club Moativation has a heated indoor pool, sauna, hot tub and fully equipped gym. Crowne Plaza Solihull is located 1 miles from the M42 motorway junction 5. Solihull train station is a 10-minute walk from the property.

https://www.crowneplaza.com/hotels/gb/en/solihull/