Kamal Majevadia
Head of Department, Partner
Dispute Resolution, Contentious Probate, Professional Negligence

Tel: 0121 746 3300
Office: Shirley

About Kamal Majevadia
Kamal specialises in Dispute Resolution.
Helping clients with:
Probate disputes

Inheritance tax claims
Trust disputes
Claims against Trustees

Contentious Trusts to include claims to remove and challenge Trustees
Professional negligence claims against professionals to include solicitors, accountants, financial advisers
Dealing with company assets in Trusts
Shareholder disputes
In the Legal 500 for 2018-19 Kam is recognised as a Leading Individual for Contentious Trusts and Probate.
Recent Cases
Multi-million pound probate estate with assets in multiple jurisdiction.
Various Inheritance Act claims
Claim against solicitors for negligent advice
Various trust disputes to include actions to remove trustees
What our clients say
Legal 500 Testimonials from referees:
'Kamal Majevadia is a strong lawyer, practically astute and is always sensible and willing to reach a pragmatic solution'
'Kamal Majevadia is very thorough and personable'.
'Kamal Majevadia applies a sound commercial approach to this litigation'.
"I truly appreciate everyone's efforts in completing the transaction very quickly. Everyone was a pleasure to work with and should I be asked to recommend any Solicitors in the UK, Sydney Mitchell will be at the top of the list."
Knoxford Ltd
"We were impressed with Kam from the moment he walked into the room. His professional, friendly, but no nonsense approach was perfect. He grasped the complicated family dynamics surrounding the claim against us, vehement rebuttal of it and our suggested defence immediately.
He explained options regarding the nature of our response in simple terms, very quickly agreeing the wording there and then. Two letters and only this one meeting saw the claim against us emphatically defeated.
Kam was very professional, concise and gave sound and effective advice. We wouldn't hesitate to recommend him and his team at Sydney Mitchell."
"I was delighted in the first instance with Mr Majevadia's instantaneous check via IT on the validity of the bond:-dubious! Secondly with Hayley-Jo Lockley's logical approach to the detailed information I provided"
Mrs M
"Kam & Hayley-Jo were very helpful. They managed our expectations. Gave us excellent advice on our best course of action. With the evidence we had, the best advice was given. Even though this chapter in my life was very sad, I have no regrets on the actions taken."
Mr Davies
"A massive thank you to Hayley and Kam. You explained the legal jargons to us patiently and guided us throughout the case, always kept us informed. A delightful experience under a difficult circumstance."
Mrs Davies
"Dearest Kam, I would like to express my heartfelt gratitude to you, and your team, for all the care and concern you have shown me, and how you worked tirelessley to ensure that there would be a positive outcome for me in my case. I am impressed by your integrity and all the hard work you did on my behalf and I am grateful for all your efforts. Your prompt responses and attention to detail really meant a lot to me. Due to the success we have had in my case I am now in a positison to conduct my day-to-day life as normal without any worry, negativity, interference or fear that I was feeling before. Thank you! Geeta..."
Geeta
"Thank you for all your patient, kind help in pursuance of my case. Truly you are a lawyer in a million and certain I shall always recommend you and the firm to anyone I meet who may be in a similar predicament..."
What the Directories say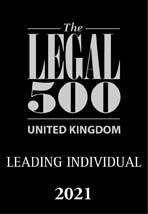 2020 - 2021 Legal 500 - 'The team represents excellent value for money litigators. The team is partner led, with very hands-on input and support. The team gets a good quality of work and case load and is well respected in the Midlands'.
'Kam Majevadia is an experienced lawyer and drives the direction of litigation well. He has a sensible and pragmatic approach, whilst ensuring that his clients get a good deal. He and his team will pull out all the stops to offer help and support to clients'.
'There is a general and obvious warmth with this practice along with its professionalism and work ethic to communicate with the customer'.
'The team has proper specialist knowledge combined with a commercial approach. Kam Majevadia is a proper expert in this area with lots of experience and takes a realistic and commercial approach'.
'The team is experienced and represents good value for money. Kam applies a sound and commercial approach as well as a good legal approach to his cases'.
'The team offers sensible and pragmatic advice. Kamal Majevadia is commercially focused, a smooth operator'.
2019-2020 Legal 500 - Kamal Majevadia is well-known for his expertise in advising on estates with cross-border assets, complex commercial and company share issues.
In Property Litigation Kamal Majevadia handles trespass claims and fraudulent transfers of property.
2018-19 Legal 500 - Sydney Mitchell 'The 'driven' and 'professional' Sydney Mitchell LLP is led by Kamal Majevadia who is a 'caring, straight-to-the-point person' who 'tells it like it is' and 'manages your expectations'. He is particularly known for disputes on estates with a cross-border or commercial aspect.
2018-19 Legal 500 - Kam is recognised as a Leading Individual.
2017 Legal 500 - Sydney Mitchell LLP's 'very efficient' team has a 'light touch' and is led by Kamal Majevadia, who is 'adept at spotting the wood for the trees and combines this with a user-friendly sense of humour for very experienced officeholders such as liquidators, who are his staple clients'. Majevadia's recent caseload includes acting on behalf of the administrators of Blakemores in relation to the collection of several large debts from former clients. Kamal Majevadia, who co-heads the team with Parnell, has 'good technical knowledge and is particularly good at insolvency, restructuring and financial professional negligence cases'.
2014 Legal 500 - In the Commercial Litigation section, Kam is referred to as 'very effective in international matters'. He is recommended for Insolvency and Corporate Recovery and is recognised as leading Sydney Mitchell's contentious trusts and probate practice where he is 'an expert in estates which include cross-border assets'.
2013 Legal 500 - recommends Kam in the Dispute Resolution section and comments on his 'concise and solutions-driven advice' in the Finance section.
2012 Legal 500 - refers to Kam as 'very commercial and helpful'.
2011 Legal 500 - Kamal is referred to as "highly rated" and is attributed with jointly leading the Dispute Resolution team. He is also recognised as leading the Insolvency and Corporate Recovery Team at Sydney Mitchell.
2010 Legal 500 - Insolvency and Corporate Recovery. 'At Sydney Mitchell, Kamal Majevadia is appreciated as 'commercial'. 'The team was appointed to deal with the disposal of assets arising out of the first Quench Retailing Services (in administration) (Threshers Group)'.
2010 Legal 500 - Commercial Litigation. 'Sydney Mitchell's team acted for two defendants on a claim for breach of fiduciary duty. Dean Parnell and Kamal Majevadia jointly head the department'.
2009 Legal 500 - 'In 2009, Sydney Mitchell was one of only two firms to be appointed to the Midlands insolvency panel by Allied Irish Bank. Kamal Majevadia is very active'.
Kamal is recognised for his expertise in the Legal 500 for insolvency and corporate recovery where the insolvency team's reputation is highlighted as 'having a significant reputation'.
Career History
2006 - Sydney Mitchell
2003-2006 - Hadens/Ansons
1997-2003 - Wragge & Co 1997 - Qualified as a Solicitor
1995-1997 - Trained at Tollers
Education
Chester Law School
De Montfort University
Queen Elizabeth's Boys' School, Barnet
Languages
Gujarati
Memberships and Offices held
Member of ACTAPS
Interests and Hobbies
In his spare time Kamal enjoys Golf, Olympic lifting and Rugby. He is an active member of Knowle and Dorridge Round Table running charitable events in his local community.