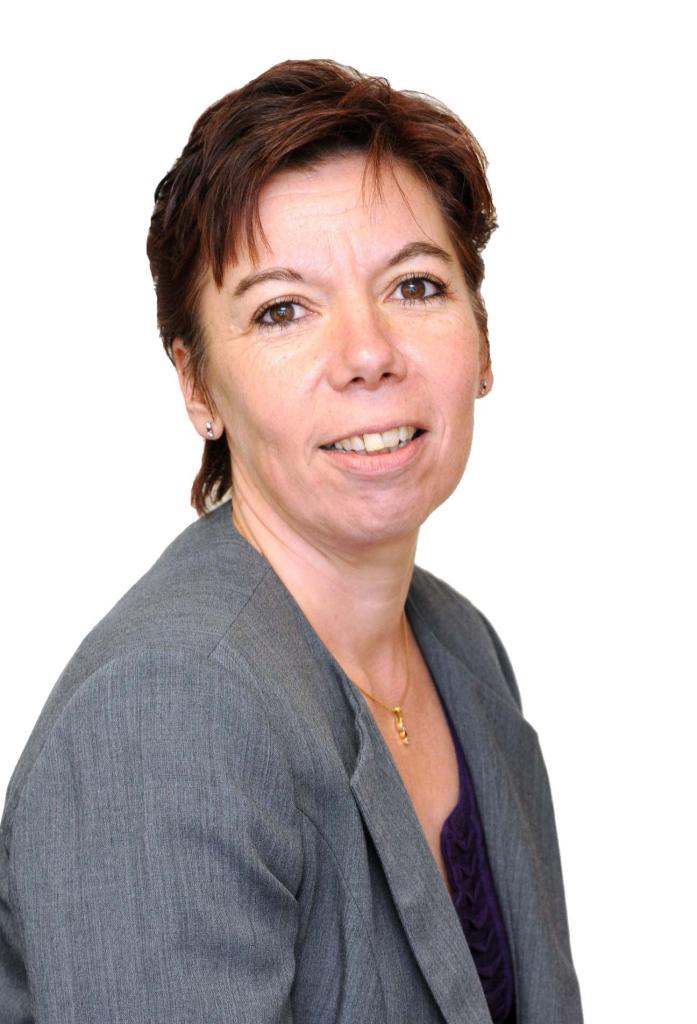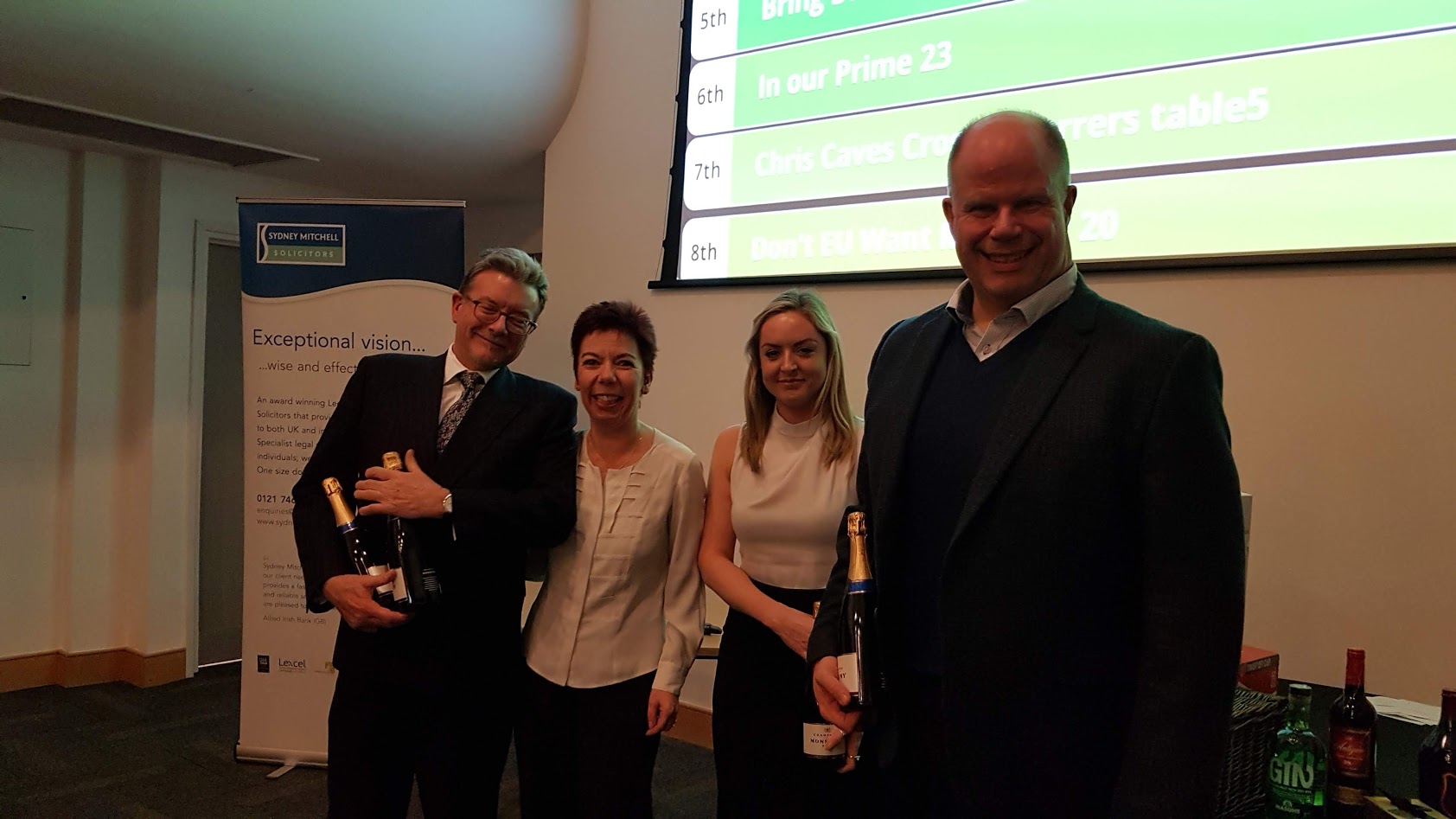 Leading West Midlands' law firm Sydney Mitchell celebrated their 11th successful quiz at The Studio in Birmingham, raising over £3000 for its nominated charities. 90 people took part in the action packed Quiz with Stoo Pittaway, of SpeedQuizzing as Guest Quizmaster. It was a fast and furious event with a few twists. Teams were able to buy chance cards, giving teams the opportunity to leap to first place, add or deduct 10-30 points during the competition.
The winner of the much coveted Sydney Mitchell Charity Quiz Trophy for 2019 was Cornwall Street Barristers 'Cornwall St Quizzers' who were fast and accurate on the buzzers in the last round despite Dains 'the Forlorn Hope' fleetingly jumping to first place after the chance cards had been applied.  Close on their heels in 2ndplace was No. 5 Chambers 'Hoof Hearted' and in 3rd place Eastcote Wealth '11 Donald Trump's IQ'.  Voted best team name waswon by Brewin Dolphin with 'Don't EU love me baby?'. 
Karen Moores, Sydney Mitchell Partner, commented:
We look forward to the quiz each year and it is great to see so many regular supporters coming year after year.  Overall we raised over £3000 from entry fees, raffle and the Chance Cards sold.  We thank everyone for their support and to Cornwall Street Barristers for the hamper raffle prize. It was great fun and raising money for two fantastic causes.
Angela Henry, Trustee of the Buddy Bag Foundation, thanked all for supporting the fundraising for their charity.
 Thank you to Sydney Mitchell for choosing us as their chosen charity. It is so great to be able to help youngsters flea perilous situations at home and the foundation would not be able to function without the generous support from our sponsors and fundraisers.
Rebecca Jacob, Digital Marketing and Fundraising Officer for Age UK Solihull, addressed all quizzers:
We are proud to be able to help our older and vulnerable residents in Solihull and Age UK Solihull would not be able to do this without the support of you all at events such as the Sydney Mitchell Charity quiz.
Sydney Mitchell is a Midlands based award winning law firm, with offices in Birmingham City Centre, Sheldon and Shirley with additional facilities in Sutton Coldfield. Offering a range of specialist legal services for both businesses and individuals, Sydney Mitchell is listed in the Top Tier of the Legal 500, Lexcel accredited and has been shortlisted for Regional Law Firm of the Year in 2019; having previously won the award in 2018, 2015, 2014, 2013, 2011 and 2008 (5-15 partners) in the Birmingham Law Society Legal Awards.
The firm's specialist teams include employment, commercial property, company and commercial services, litigation and insolvency. Private client teams include family law, residential property, dispute resolution and wills and probate, tax and trusts and personal injury.
Pictures from the event - Sydney Mitchell 11th Charity Quiz 2019

Winners, 2nd Place and 3rd Place plus voted Best Team Name: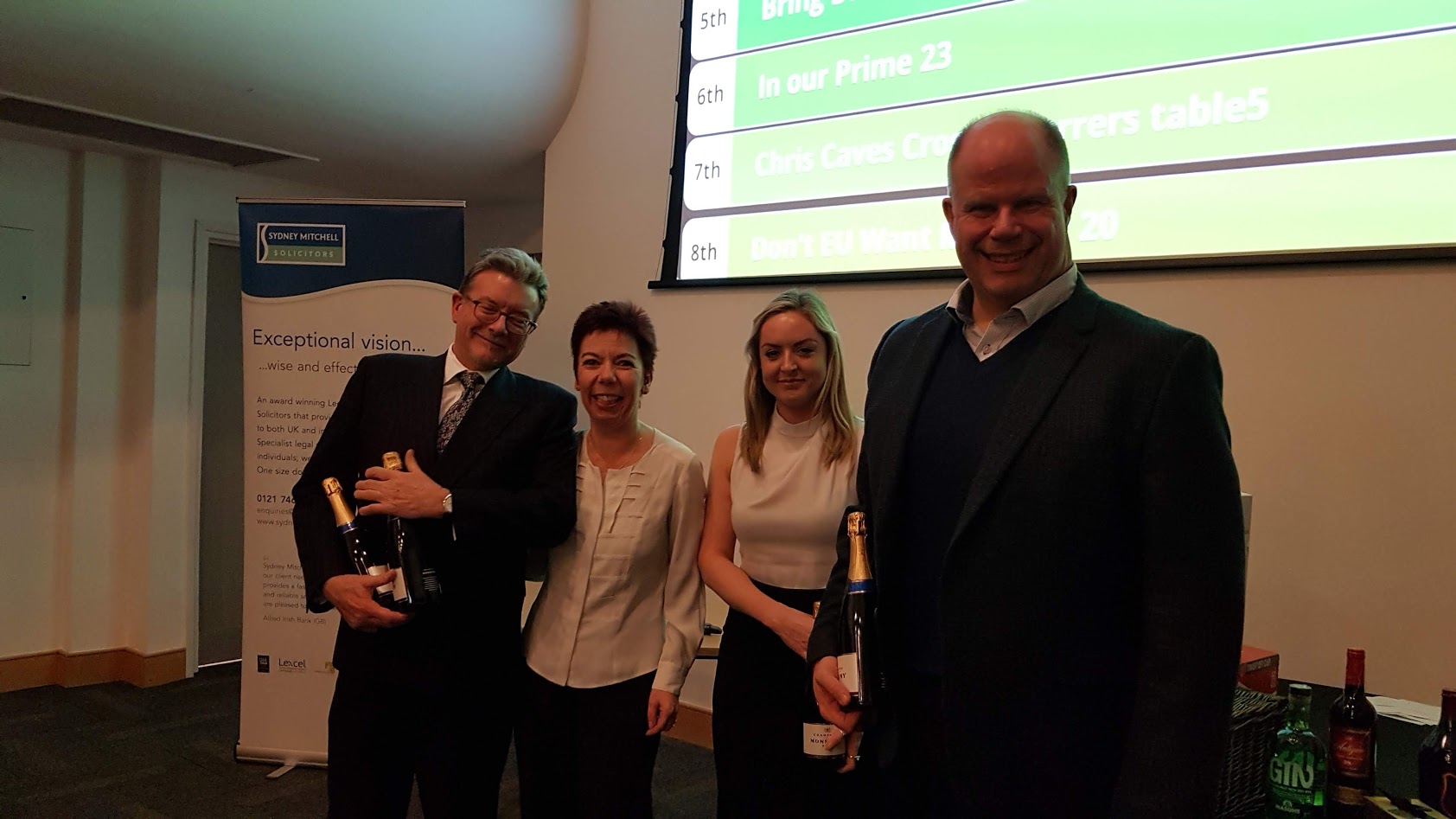 1st Prize - Cornwall St Barristers – Karen Moores, Partner presented Champagne to Winners
(Andrew Tucker, Karen Moores, Georgia Griffiths and Simon Bradshaw) (Cornwall Street Quizzers)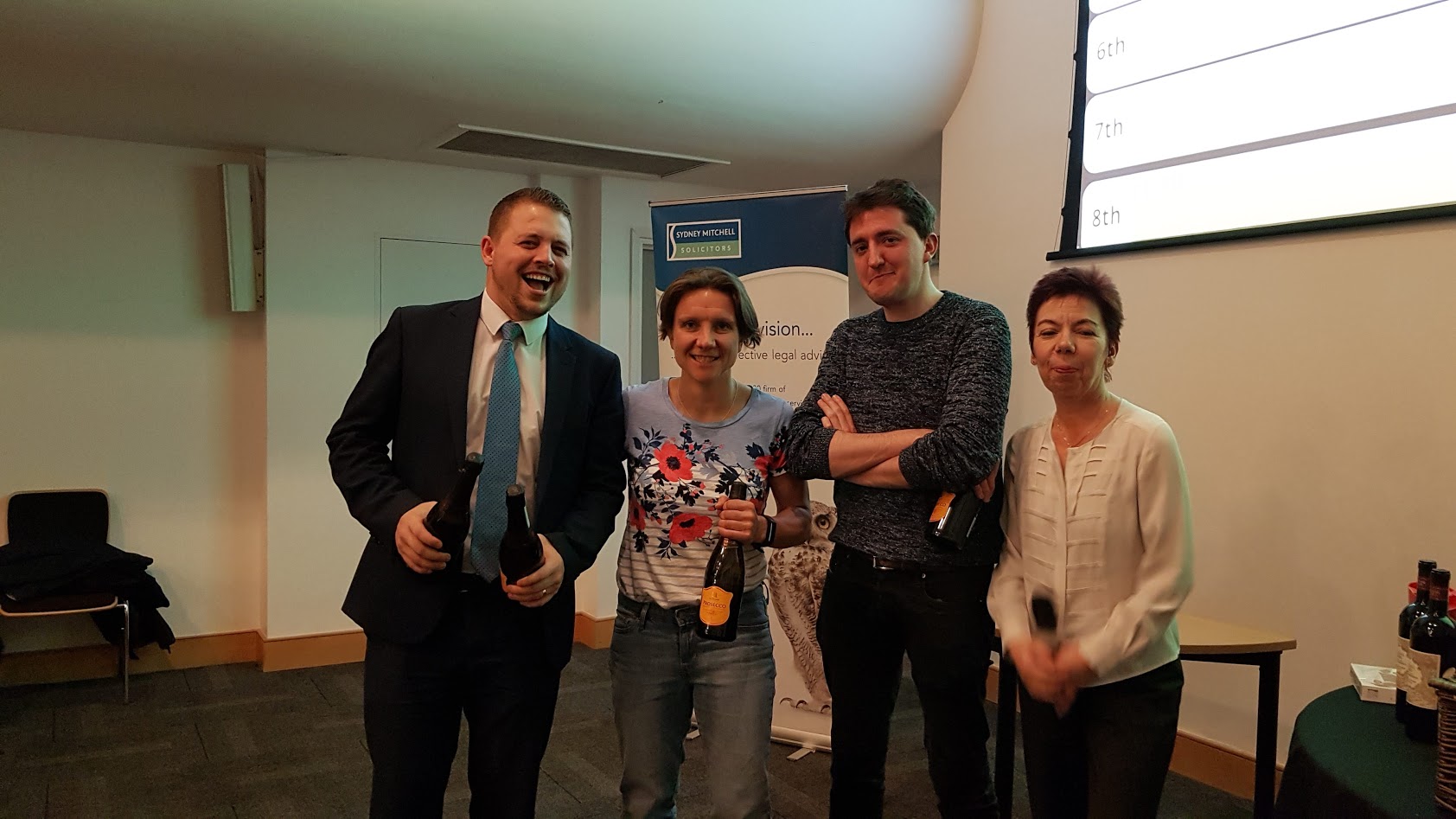 2nd Prize -   No. 5 Chambers - Eamon Hurley-Flynn, Gemma Roberts, Peter Mottram and Karen Moores Sydney Mitchell LLP (Hoof Hearted)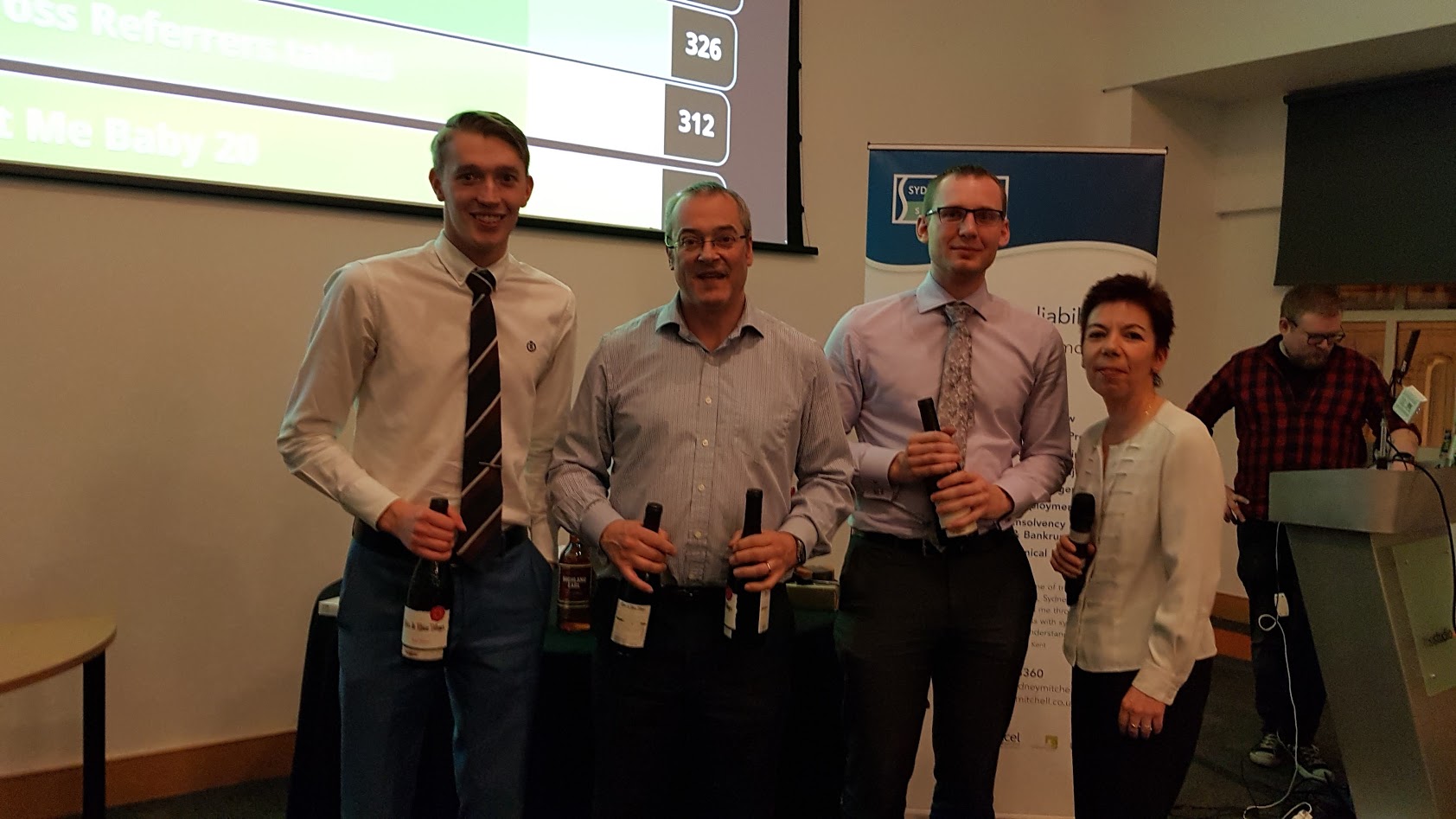 3rd Prize – Eastcote Wealth - Ben Brayshaw, Rob Kenyon, Alex Haynes, Karen Moores (Sydney Mitchell LLP) (Donald Trump's IQ)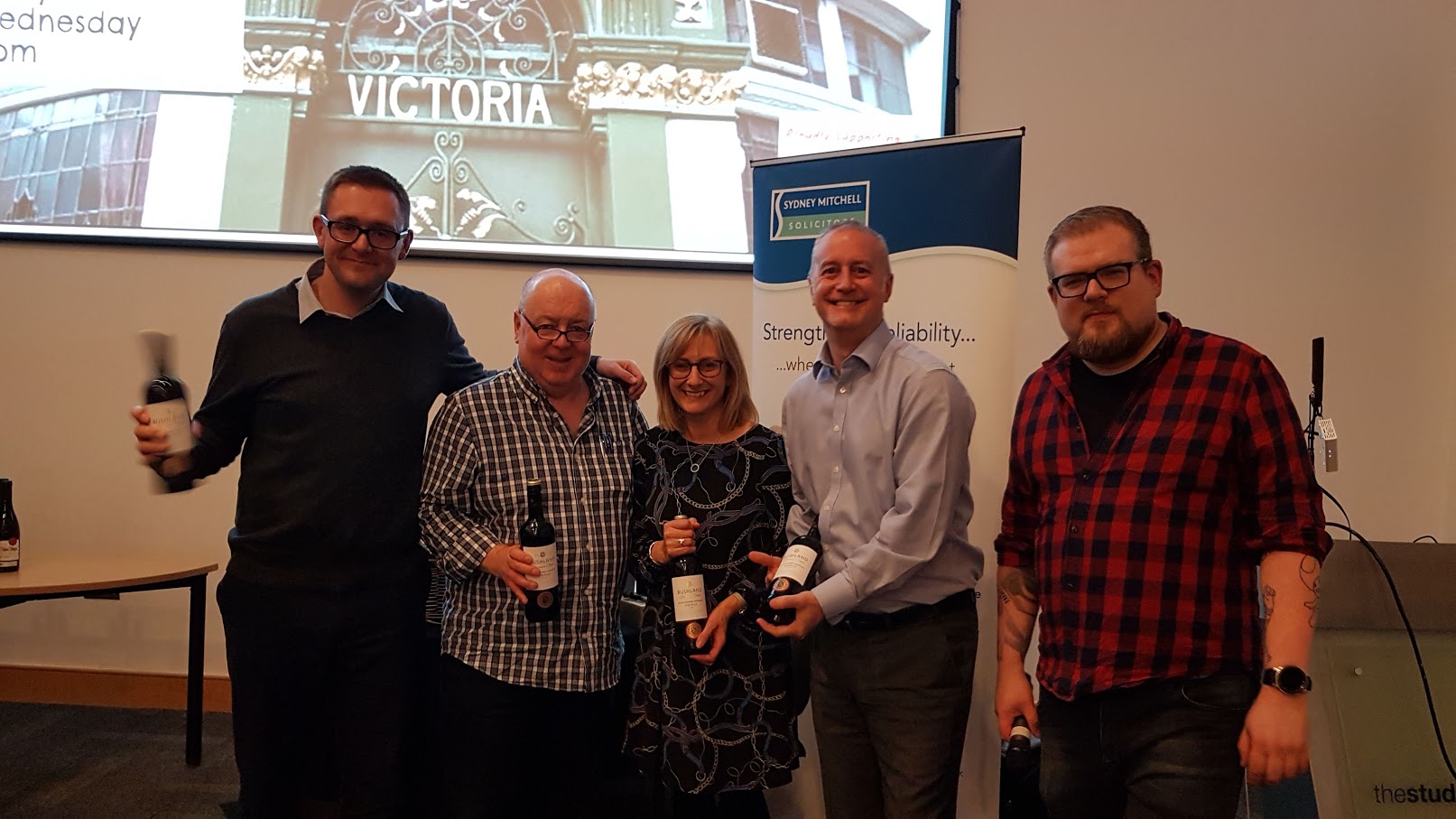 Brewin Dolphin – Paul Fielding, Paul Hepherd, Debbie Liburne and Paul Sargent -  Don't EU love me baby?  Best Team name presented by Stoo Pittaway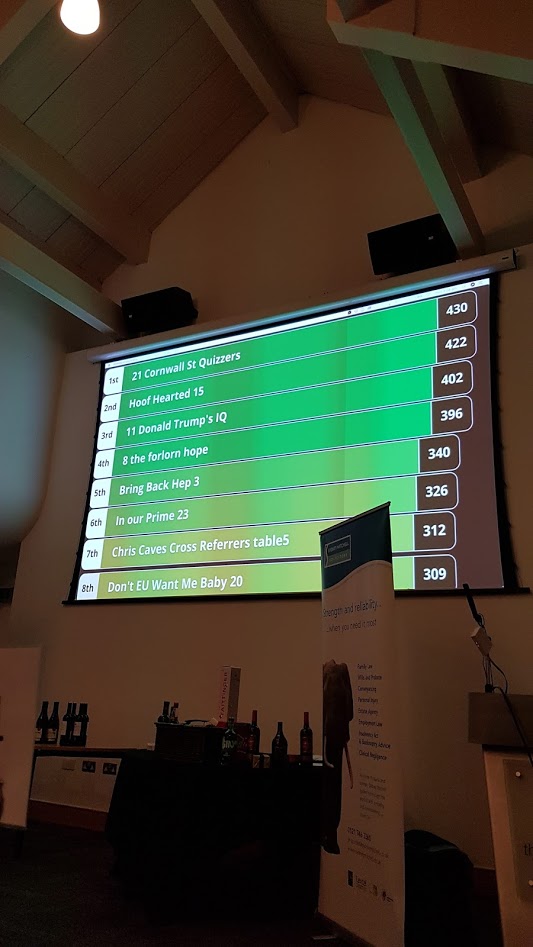 About our charities

Age UK Solihull

Age UK – Solihull provides help and support to older people in the borough of Solihull. The Vision of Age UK Solihull is of a world where older people flourish and our Mission is to improve the lives of all older people in the borough. The Core, Central Library Building, Solihull, B91 3RG

0121 704 7840 info@ageuksolihull.org.uk  @ageuksolihull Charity number 1055887
Buddy Bag Foundation

The Buddy Bag Foundation was created in response to the rising number of children who enter emergency care after fleeing violent situations at home.  The Foundation helps restore a sense of safety and security into a child's life during a traumatic time.  By providing these children with a few essential items, the charity can help make the transition into emergency care a little easier.  Over 48000 children require emergency accommodation each year in the UK.  Founder Karen Williams launched the Buddy Bag foundation in 2014 after being inspired by the Alannah and Madeline Foundation in Australia. hello@buddybagfoundation.co.uk

www.buddybagfoundation.co.uk @buddybagsuk Charity No. 1164916