After much anticipation amongst employers and employees across all industries, Chancellor Rishi Sunak has set out the governments new job support scheme in a statement made at the House of Commons on 24 September.  This scheme is due to start in November.  
Only a few details available at the moment, however we can confirm that:
This replaces the furlough scheme which will end on 31 October 2020;
It will be in place for 6 months from November 2020 until April 2021;
The new Jobs Support Scheme involves the government supporting the wages of people in work, giving employers the option to keep people in work on shorter hours, rather than making them redundant;
Employees will have to work at least a third of their normal hours (it can be more) and be paid for that by the employer.  The government and the employer will then top up the employees pay by a third each, of the remaining hours not worked.  In total the employee will receive up to 77%;
Now all SMEs are eligible and larger businesses will be eligible, but only if their turnover has reduced due to the COVID19 crisis;
It is open to all employees even if they have not previously been place on furlough;
Eligible, employees must have been on the employer's Real Time Information submission on or before 23 September 2020;
The minimum 33% threshold hours for which an employee must work may be increased from month 4 to 6 of the scheme; and
The government's grant will not cover Class 1 employer NIC or pension contributions, these remain payable by the employer. 
The Treasury has released the following tweet to help understand how the new scheme will work. From looking at the infogram below, it appears that employees will only receive 77% of their pay in total as demonstrated below.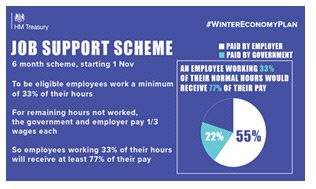 Watch this space …but for more information click here to see the government Job Support Scheme Factsheet.
For help or advice on employment law matters, please speak to Emma-Louise Hewitt e.hewitt@sydneymitchell.co.uk 0808 166 8827