Stephen Jesson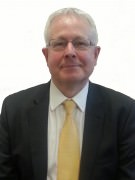 Litigation Practitioner
Accident & Personal Injury

Tel: 0121 698 2216
Office: Birmingham

About Stephen Jesson
Steve joined the Personal Injury team at Sydney Mitchell in 2014 with over 35 years of experience in pursuing personal injury claims firstly for members of the RAC and AA and then on behalf of members of a large union.
Steve deals with all types of personal injury including
accidents at work
industrial disease
upper limb disorders ie repetitive strain injuries/vibratory injuries
road traffic accidents
clinical negligence
trips, slips, falls on private and public land
victims of criminal assault
Recent Cases
Steve recently resolved a clinical negligence claim for a client who was left with nerve damage following hip replacement surgery. Investigations revealed that the surgery was unnecessary. Claim ultimately settled for £100,000.
What our clients say
"I felt nervous to begin this claim, but felt justified in that my injury was needless forcing me to have an operation and affecting my mobility at the beginning of my retirement. I started with another firm, one advertised on TV, but was dismayed at their professionalism. Sydney Mitchell was recommended by a family member, so I cancelled the other firm, still unsure of the process. Ms Shorthouse was wonderful- from her first initial visit to my home. When she explained everything it gave me more confidence. The fight for my compensation has been challenging but she persisted and I have to thank her and Steve Jesson, who took over the case, for their hard work. Thank you so much."
"Very satisfied with the work carried out, very informative and good advice."
Mr Micheal J Quinney
Career History
2014 - joined Sydney Mitchell
1994 - 2013 Putsmans/Shakespeares
1980 - 1994 Amery-Parkes
1975 - 1980 Robert Walters & Co
1973 - 1975 Amery-Parkes
Education
Great Barr Comprehensive
Interests and Hobbies
Steve enjoys sport, especially football, good food and wine.