Paul Gill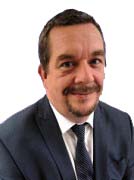 Care Funding Adviser
Wills Trusts & Probate

Tel: 0121 746 3300
Office: Shirley

About Paul Gill
Paul joined the Private Client team at Sydney Mitchell in 2014 as Care Funding Adviser. He has responsiblity for supporting clients through the care funding process and in particular:
Continuing Health Care applications
Continuing Health Care appeals
Care funding
Paul brings a wealth of experience to the role, gained from his work in the NHS.
Career History
Since 2008, Paul has worked for Solihull Care Trust, and subsequently The Central Midlands Commissioning Support Unit (CSU) as a CHC Clinical Nurse Specialist (mental health) undertaking Continuing Healthcare Assessments and care management of CHC clients in community and Nursing Home Settings.
Prior to this, Paul began his career in 1980 as a Psychiatric Nurse working in many areas of inpatient and community settings. From the mid 1990's he specialised in old age psychiatry, particularly in the assessment and diagnosis of dementia. He was involved in the development of psychiatric liason/inreach services for Walsgrave Hospital, Coventry.
He then took on the role of Discharge Co-ordinator for old age psychiatric services for South Warwickshire which led to an increasing involvement in Continuing Health Care matters and his subsequent specialisation in this area.
Memberships and Offices held
Registered Mental Health Nurse
Interests and Hobbies
Science fiction, travel, bread making and ice hockey