Melissa Southall
About Melissa Southall
Melissa is an experienced Solicitor and provides extensive personal immigration advice to our clients on spouse visas, applications for children, asylum, European applications to citizenship.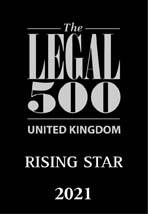 Melissa has several years experience in all kinds of immigration and asylum work, and has a particular interest in applications involving the rights of children. She has worked with a number of Local Authorities over the years representing children in Local Authority care who have immigration problems.
Recent Cases
Melissa recently won a de facto adoption appeal case for three minor children adopted from birth in Nigeria as well as an appeal whereby a spouse had been granted a visa but her minor child had been refused with the Home Office arguing the sole responsibility requirement was not met.
Melissa was also successful representing a European National teenage boy in Local Authority care who had mental health problems and had previously received refusals of Permanent Residence from the Home Office.
What our clients say
Melissa's clients have made many wonderful comments throughout her career, including:
"My personal fairy-tale journey to getting the spouse visa was ALL thanks to one special lady (Melissa), who is undoubtedly very knowledgeable and professional in her field of expertise. I thank the stars and heavens I found her."
"The way Melissa dealt with my case was unbelievable, despite my case being messed up by other lawyers. I really appreciate her hard work throughout my complex case."
"Melissa was incredibly helpful and efficient, giving me all the information I needed and talking me through every stage, no matter how many times it took for me to understand. We got exactly the result we needed and it happened far quicker than I thought which was amazing! Thank you so much."
"My wife and I would like to say a big 'thank you' for all your hard work and help handling my case – you have been the best solicitor that I have ever dealt with. Thank you so much."
I can't explain Melissa ….. Her knowledge and customer service exceeds that of other solicitors and provides the best guidance regarding your case
"I cannot thank you enough for fighting for us and for your guidance and support over the last year. We wouldn't have been successful without your help"
"Our Solicitor was Melissa Southall. She is very knowledgeable, professional, very quick to answer any questions, easy to get a hold of and always kept us updated. She guided us through our spousal visa renewal step by step and made the process of gathering needed information and documents together much easier than if we were to go at it alone. Highly recommended!"
Melissa is an outstanding immigration lawyer. She is professional, knowledgeable and dedicated!. If you are looking for a great immigration lawyer - please, look no further! Melissa is truly amazing. Not only she is extremely knowledgeable and experienced in immigration field - she is super attentive and dedicated, She is always available via email or phone, answers all the questions in details, and during meetings - she is always prepared and will spend extra time with you. She will not just collect your money and forget about your case - she will always be in touch, guiding you through the whole process until success. I am very glad I chose Melissa as my lawyer and highly recommend to use her services if you need help in your immigration process."
Melissa was great. I cannot sing her praises enough. She is friendly, smart and professional. I would recommend her to anyone."
Many thanks again you are absolutely the best at what you do! Thank you so much from my heart."
Melissa Southall was everything we could wish for. She was very knowledgeable, speedy, precise, pro-active, re-active and easily accessible. Melissa's professionalism and people skills are tremendous. Her back-up report which accompanied the Visa application was quite something. Thank you so much.
"Melissa was so helpful and made what was a difficult and stressful process significantly easier. Her patience, approachability and thoroughness were appreciated, and the time she took to explain the process to us made it easier understand. Thanks again Melissa."
"Thanks a million Melissa! You have done so much for us, more than you know."
Types of Law used
Immigration Law
Human Rights
Nationality Law
What the Directories say
Legal 500 2020/2021 - Rising Star
'Melissa Southall and Andre Minnaar work exceptionally well together as a team. They provide an excellent service to their clients and are extremely dedicated to achieving the best outcome possible. They both have excellent knowledge of the law. They are committed to providing an excellent service to clients'.
'The immigration team is outstanding, professional, knowledgeable and exceptional in its client care'.
'Melissa Southall put our minds at ease, dealt with everything superbly and professionally and I would recommend her to anyone. She handled everything and you can't imagine the burden she lifted from our shoulders'.
'Andre Minnaar and Melissa Southall both work extremely hard for their clients. They anticipate difficulties in cases and seek to resolve them'
Legal 500 2018/2019 - Leading Individual
Legal 500 2018/2019 stated
'Melissa Southall co-heads the Birmingham team is 'a good communicator', 'professional in all her dealings' and 'an honest person who has empathy and understanding'.'
Legal 500 2017/2018 - Recommended Lawyer
Awards and Recognition
Rising Star in the Legal 500 2021.
Shortlisted in the Birmingham Law Society Awards 2019 for Excellence in Client Service to Private Clients.
Career History
April 2019 – Associate, Sydney Mitchell LLP
May 2014 – April 2019 - Solicitor, Cartwright King
May 2013 – April 2014 - Solicitor, Alsters Kelley
Sept 2011 – Mar 2013 - Solicitor, Blakemores
Sept 2009 – Sept 2011 - Trainee Solicitor, Blakemores
Education
2007 – 2009 College of Law, Birmingham
2003 – 2007 University of Birmingham LLB Hons Law with French
2001 – 2003 King Edward VI College, Stourbridge
Languages
Knowledge of French
Interests and Hobbies
Travel, reading, cooking and keeping fit.