Karen Moores
About Karen Moores
Karen has formidable negotiating skills and achieves high levels of settlement and client satisfaction. She adopts a firm but fair approach to all aspects of her litigation with an eye to the commercial realities.
Karen helps her clients to resolve the issues associated with family breakdown including:
Matrimonial finance
Complex children's issues
Managing substantial assets
Complex pension issues
Breakdown of civil partnerships
Karen advises husbands, wives, mothers, fathers, and grandparents, partners in civil partnerships and other legal professionals in all aspects of family law.
What our clients say
Legal 500 testimonials from clients:
'Karen Moores is more than a solicitor she has been amazing in helping me through what has been one of the most difficult times of my life'.
'Karen Moores is an extremely capable and totally dedicated solicitor. Her clients are left in no doubt that her total focus is upon them and their case. She retains an infectious sense of enthusiasm for her work and goes the extra mile for each of her clients'.
"I can't thank you enough for the support, expertise and humour that got me through. At the start, it seemed so daunting – I was scared. You have such brilliant interpersonal as well as legal skills Karen, that I had such confidence in you that helped me to develop mine. Thank you so much."
"I was recommended to seek advice from Karen from a friend. It was an excellent recommendation as Karen was informative and supportive throughout. I would highly recommend her." Mrs Kirsty J Tudor
"Karen and her colleagues were excellent from start to finish. I had many phone calls with Karen where she always managed to calm me down and put my mind to rest. She was thoughtful in a difficult and upsetting situation, she was always professional and very helpful and efficient. She explained every step thoroughly so I always felt in control of the situation. My friend recommended Karen to me and I would not hesitate to recommend her services to anyone in the future. Thank you."
"Gemma & Karen were both brilliant, responsive, knowledgeable and calmer than me! and the recommendation of Victoria Green was also key to the successful outcome on 7 August. Thank you!" Mr Ian Robert Clarke
"Karen Moores was from the outset a tremendous help both emotionally and professionally. She gave me confidence to move forward with a very traumatic and devastating time in my life. The outcome that she achieved was what she had said it could be from the start."
"Would like to say thanks to Karen and her team for all their help, assistance, guidance and patience whilst dealing with this case. I appreciate the simple language used when the case had been discussed"
Mrs D Sanders
"I would like to thank Karen, Miranda and all the team for the work and kindness"
"Thank you to Karen Moores for understanding my case so well and for making the process easier"
Ms Monica Beltran
Types of Law used
Family Law
What the Directories say
2021-22 Legal 500 - 'Karen Moores is a very experienced solicitor dealing with family law; in my case divorce. She is extremely knowledgeable but also very straightforward, friendly and easy to talk to which certainly helped to put me at ease. She was always available and provided expert advice and support during what was a very difficult time emotionally and financially. She left me in no doubt that she was focused on helping me get the best result for me but also helped me understand the potential consequences of pursuing a result through the courts which was very helpful. Her humour and positive attitude were much appreciated. I have already recommended her to a friend'.
'Karen Moores is an outstanding and exceptional solicitor, and has a compassion and dedication to her work that's second to none. If you are lucky enough to have her as your legal representation, then you can rest assured that you are in very safe and skilled hands, that as far as I am concerned, are the best there is to offer'.
'Karen Moores is a superstar solicitor. She has enormous energy and enthusiasm for each of her cases. Clients are left in no doubt that she will do everything to help them to achieve the outcome they seek'.
'One of the hardest-working and committed teams I know. The team has a synergy that is palpable and productive. Everyone gets on and they are a pleasure to work with. The two stand-outs are Karen Moores and Mauro Vinti, a double act par excellence. Karen never stops, she is a dynamic legal whirlwind. She fights every injustice to the last with consummate skill, professionalism and charm. Her client base is loyal and deservedly so. A pleasure to work for and concerning to be against. Mauro mirrors such attributes and also brings to the firm the dynamic of well considered pragmatism and knife sharp negotiating skills'.
'An excellent team of first rate family lawyers. Karen Moores is extremely savvy, very down to earth and refreshingly forthright. Mauro Vinti is patience and calm personified, which makes him particularly adept at dealing with the trickiest of cases'.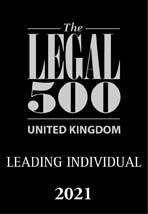 2020-2021 Legal 500 - 'Sydney Mitchell can easily rival the biggest of national law firms. During the year or so I interacted with Karen Moores and her family law team, the quality and service they extended to me was nothing short of fantastic'.
'Karen Moores is excellent. She is efficient, industrious and robust. She has sound judgement and a good manner with clients. Mauro Vinti is also highly recommended for his ability to navigate difficult cases calmly and effectively'.
'Karen Moores is an outstanding professional who brings high levels of emotional intelligence and outstanding technical expertise to her work. Karen was consistently professional, readily available and provided an excellent client service experience'.
'I felt Karen Moores was absolutely working to "fight my corner", sincerely had my best interests at heart, explained everything clearly, and provided me with the necessary peace of mind during a very difficult period'.
'Karen Moores is a truly respected and feared opponent who simply never gives up'.
'Extremely efficient, does not overcharge, always prepared to negotiate; all documents and bundles well prepared and counsel are briefed on time'
2019-2020 Legal 500 - 'The team is unique in its ability to cut to the chase and focus on the outcome, but in a way that keeps clients constantly at ease'.
'The family team is extremely hardworking and conscientious. It works cohesively and all members are helpful in handling your case or query efficiently'.
'Karen Moores is beyond capable. She has a knack for seeing the issues, seeing the necessary outcome and executing a strategy to get there - but delivered in a highly personal, relaxed and ease setting manner'.
2018-19 Legal 500 - The 'excellent' Sydney Mitchell LLP focuses on complex matrimonial disputes and childcare arrangements. Karen Moores is a key contact and is known for her 'compassionate' and 'understanding' manner.
The 2014 Legal 500 refers to the 'friendly yet utterly professional' family team and Karen is recognised for her handling of matrimonial finance matters and her experience in matters involving substantial assets, pensions and child law issues.
The highly regarded practice at Sydney Mitchell LLP is led by Karen Moores, who is described as 'tenacious and hard hitting'
Career History
May 2019 - Senior Partner at Sydney Mitchell

1998 – Partner at Sydney Mitchell

1990-1998 – Trainee to Partner at Young & Lee

1992 - Qualified as a solicitor after training at Young & Lee
Publications
Karen Moores has been quoted in articles written in The Daily Mail on two occasions, she also regularly writes and has articles included in publications such as Birmingham Post, Birmingham Law Society Bulletin and other regional titles. Karen's articles regularly appear on the firms website.
Education
Priory Grammar School, Shrewsbury

Essex University – LLB, 2:1. 1989

Chester College of Law, 1990
Memberships and Offices held
Karen, along with the whole of the Family team are members of Resolution.
Other Important Positions
Karen has conducted seminars to the teaching profession in respect of children's matters following on from family breakdown.