Danny McCorry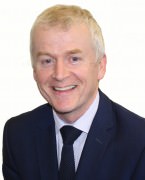 Senior Conveyancer
Domestic Conveyancing

Tel: 0121 700 1400
Office: Sheldon

About Danny McCorry
Danny works with individuals, partners and families on every aspect of buying, selling, renting and remortgaging their homes, including houses, flats and maisonettes.
Danny helps to make every transaction progress to completion as quickly and as easily as possible, with the aim of reducing the stress associated with buying and selling.
Helping a wide range of people to buy all sorts of properties, Danny's clients have included professional footballers company directors, first time buyers, professional musicians, housewives and home husbands!
Danny assists people with –
Buying
Selling
Freehold buying and selling
Lease extensions
Remortgages
Right to buy
Buy-to-let
Property transfer of ownership
Danny will give you a free initial twenty-minute consultation, with no obligation, in order to –
Outline the whole process
Understand your concerns and worries
Explain what will happen at key stages
Answer any questions you may have, before the process has even started.
From receiving your quote to receiving your keys, Danny is there to support you. Danny will give you practical and comprehensive advice at each stage of your journey. He is always at the end of the phone to answer your questions and to allay your concerns. Danny always goes the extra mile to reach the right outcome for you.
What our clients say
"Danny was exceptional - his attitude, effort, work ethic and commitment to our purchase was outstanding. Thank you so much for achieving such a brilliant outcome for us."
"Thank you for all your help. Everything went very quickly and smoothly with the selling of our house and buying our new home. Thanks again, we really appreciate everything you've done for us."
Mr & Mrs Wiles
"Thank you very much for all the hard work you put in to our house purchase! After all the toing, froing, stresses and hair pulling, we are very happily settled and appreciate everything you did."
Mr & Mrs Nisbet
"Just wanted to say a really big thank you for all your hard work and effort in making our dream home a reality. I know how hard you all worked and we really appreciate everything you did."
"Danny – excellent correspondence and totally professional always. Keith/Mike – polite, cheerful, professional and on the ball with calls and info. Basically a totally complete package and it works. Integrated solicitors in house on your doorstep with on the ball estate agents. I wish you all the best in the future. Don't change anything, it's perfect as it is."
Mr Harker
"We would not hesitate to use your services in the future, or to recommend to friends and family. The service provided by Danny McCorry was absolutely outstanding and he really goes above and beyond. His local and legal knowledge helped immensely and without it, the process of moving house would have taken much longer. We would like to personally thank him for his help and making our move happen, thank you."
Mr and Mrs Peters
"I am glad that I returned to have Danny McCorry deal with the purchase of this property. It was a pleasure dealing with you all. Thank you for making a potentially stressful occasion as stress free as possible."
Mr Andrew R Reedman
"Our purchase dealt with in a professional and courteous manner, thank you."
"We would like to say how helpful Danny McCorry was in assisting and explaining the full process for our house purchase, thank you so much."
"We were generally happy with the service we received from Sydney Mitchell LLP. We were particularly pleased with the manner in which Danny McCorry handled our case."
"Very satisfied with the service provided."
"We were very happy with all aspects of the conveyancing process and all our dealing with Mr Danny McCorry and his staff."
Mr and Mrs Stanley
"A very good service all round and one we would use again and highly recommend to others."
"I have used Danny McCorry for 20 years. I continue to go back as his knowledge and service is excellent. I mention him to many friends and family."
Mr Dean Gary Leather
"I will never use anyone else to sell my house"
Lisa Jobins
Career History
1988 Joined Sydney Mitchell
Interests and Hobbies
"I am a Dad to a teenage son and a young daughter."
* Non-solicitor